Post by Drake Adler on Feb 1, 2021 21:47:59 GMT
Name
: Drake Adler
Alias
:
Age
: 27
Gender
: Male
Height
: 6'2"
Weight
: 180lbs
Alignment
: Goodish
Birth Date
: March, 17th
Birth Place
: California, USA
Skills/Talents
:
High Pain Tolerance: He is able to take a lot of punishment due to his natural tolerance and how he grew up. It has become even more refined through the training he put himself through over the years.
Martial Arts: From a young age he trained with various instructors as he grew up, they essentially beat it into him that it was meant for self defense only.
Sewing: Taught to do this from a young age, he quickly learned how to be able to sew his own clothes or path up ones that had gotten torn up. It also helps him to relax.
Basic first aid: He knows just enough to help take care of people in emergency situations until help can arrive.
Video Games: Another way for him to find a way to relax, is to just sit back and play some games. It's also lead him to his job, as he finds different ideas for games during his travels.
Backpack Contents
:
Smartphone
books
first aid kit
lighter
Digivice
:
A simply designed d-tector. The primary colors are white and red, the wheel is a golden shade with the middle button being a bright green.
Personality
:
Drake likes to keep to himself for the most part at least in the sense of not really talking much about himself, as he is almost always smiling and being cheerful towards even strangers. Now, that's not to say he isn't friendly because that's not true, should someone befriend him they will find an incredibly reliable person they can call upon. Even if someone just wants to talk or have someone to listen, he will be more than willing to make some time for them. Not limiting himself to only being kind to friends he is one to always try being compassionate and generous to those around him, due in no small part to how he was raised. What you see is what you get as well, there isn't some deep secret side to him that he only shows in private situations, he just holds himself to his own code of honor. Thankfully, he is adaptable and hasn't made something too rigid for himself, and can adjust to different scenarios as is needed.
To be frank those were only his better qualities to be sure, as he has quite a few bad tendencies as well. Firstly, is that he is impulsive and will jump into a situation without much forethought or consideration for the consequences for himself. Adding to this is the fact that he is much more reckless with himself due to his higher than average tolerance for pain, usually ending in him being hurt more than necessary. Finally, the one thing that plays into everything is his penchant for being wrathful towards any actions that cross a line. Always will there be more to discover with this young man, as he is never one to shy away from being open about who he is at his core.
There is more to him than this as well, but only those that hang around him long enough will find out the full package.
Appearance
:
Drake doesn't wear anything too outlandish for clothes, he keeps it to a simple pair of jeans, a plain white t-shirt, and his jacket to go over it and on occasion he will be seen with finger-less gloves. That's his usual day to day wear, but if the occasion calls for it he has been known to don a classy suit and tie. That aside, the most notable thing for him is his height, standing at 6'2 he tends to be among the large people in the crowd, much to his annoyance. Blond hair, blue eyes are the signature feature for his head with a well-toned athletic build with the purposeful intent for his muscle to not be bulgy.
Should someone get the chance to look even closer for some reason, they will find that his body has been through a lot as scars litter his body, some that have healed well, but others that still have a gnarly appearance to them. A combination of just the life he has lead and the training he has done. Overall, he isn't too far out of the ordinary when it comes to his looks.
FaceClaim
:
Fatal Fury
•
Terry Bogard
• Drake Adler
Personal History
:
Born to loving parents, both of whom were in the upper echelons of society, unfortunately he never was able to meet them to find that out what kind of people they were at the time. It was while he was still young, it was his mother's sister that was babysitting him at the time while they had both gone on a business trip that needed their immediate attention. As they were flying to wherever they needed to be their was some sort of turbulence and it downed their plane in the middle of the ocean. There had been searches, naturally, but there had been no sign of any of the plane wreckage and it was just assumed that they had died in the crash. Unbeknownst to Drake was all this, while at the same time his aunt was now trying to get everything figured out for how she would take care of him, but would still give people hell about trying to find his parents. She had been military trained, she was a scary woman when she wanted to be, and as far as the young man was concerned she was his mom. While he might have had parents they weren't there and she was, so it made sense for to him to just look at her in that way. Thankfully, the parents had prepared as well and the will was in place that the money he would inherit was placed in his aunt's care while he was growing up to provide what was needed in his life.
Life for him wasn't what one would expect from the way things were set for him, being on a farm in the Midwest and going to a regular public high school. It was for the most part the typical high school experience, with friends acquaintances, all the usual things one would expect from the environment. Of course, what high school experience is complete without the bully experience to go along with it, but this was from someone that had transferred into the area from a big city so that came with its own surprises. They had tried to get him riled up by doing the usual nonsense, but it never bothered him which was probably why it escalated shortly after that to a point where things became a bit more dangerous. Not getting into things too much, but a rather large fight between the two broke out resulting in a hospital stay. They had both wound up being suspended because the school didn't want to bring unwanted attention to those that were witness to it. Long story short, Drake had some new scars and having a former army vet for a mom, with friends in different places made for an interesting summer and then some, which leads us to where his passion for learning different styles comes into play.
Fast forward to his college years where he had been taking classes with his friends so that they could open a gaming studio of their own one day, and they all wanted to be able to contribute more than just to one aspect. It was then that his mom fell ill and things started to kind of closed in around him while the events played out. During the couple years that the illness stretched out, he slowly withdrew into himself as it was all starting to get to him. When he went to visit for what would wind up being the last time, she gave him full control over what had been left to him with the simple message that he should travel regardless of what he chose to do afterwards.
Taking a few days to get everything sorted, he started his tour of the world which is what brings us to the present times. He had been catching weird rumors of stuff going on in Japan, and it was one of the few places he had yet to visit. One of his mom's friends lived in Shibuya, so he could at least crash there before he got his own place set up. A bad habit of his was to involve himself, even if it wasn't really something he shouldn't, and so his plane landed. A new adventure was ready to start.
SPIRIT USER'S INITIAL EVOLUTION LINE
Spirit Element:
Courage
---
Sprite SpiritSpecies
: Hackmon
Appearance
:
Attribute
: Data
Family/ies
: Metal Empire, Virus Busters
Type
: Small Dragon
Fighting Style
: Drake has adapted to the smaller, more animilistic form and created a rather intricate fighting style that is similar to a brawler type of fighter, relying a bit more on his sturdiness and brute force. Though due to the spirit's knowledge, he has devised tactics that will allow him to us his form to its fullest abilities.
Abilities
: [4 Abilities Max]
Fif Slash: Drake's claws glow with an awesome power, before fading down to a shimmering glow that is wrapped around the claws, enhancing his strikes by adding an extra bit of sharpness to them.
Tin Ram: Rotating his tail at high speed, his tail turns into a drill that can dig its wy through even the toughest of defenses of digimon his own level. 2post CD.
Baby Flame: Concentrating flames into his mouth, Drake holds them in as the accumulate into a much larger flame than one would expect from a digimon his size. 2 post CD
Armored Dragon(passive): Due to the armored nature of the spirit form, Drake's defensive capabilities are increased by 50% while his agility is lowered to about 20% from the increased weight.
Digivolves To
: XV-mon
---
Human SpiritSpecies
: XV-mon
Appearance
: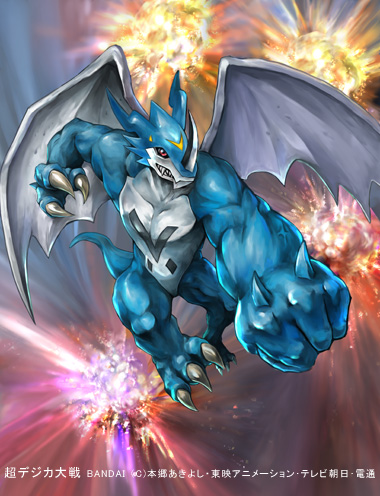 Attribute
: Free
Family/ies
: Dragon's Roar, Nature Spirits, Wind Guardians, Metal Empire
Type
: Mythical Dragon
Fighting Style
: In a form that is much closer to his original the fighting style has taken a drastic change as well. While still prefering a close range combat, he now utilizes fast-paced movements into his moves while including grapples and the like into the mix. Speed, power, versatility all come together in this form letting him really let loose a bit, and become a bit more aggressive with his movements.
Abilities
: [6 Abilities Max]
Digivolves From
:
Digivolves To
:
---
Beast SpiritSpecies
:
Appearance
:
Attribute
:
Family/ies
:
Type
:
Fighting Style
:
Abilities
: [7 Abilities Max]
Digivolves From
:
Digivolves To
:
---
Fused SpiritSpecies
:
Appearance
:
Attribute
:
Family/ies
:
Type
:
Fighting Style
:
Abilities
: [9 Abilities Max]
Digivolves From
:
Digivolves To
:
---
Transcendent Spirit
/
Ancient SpiritSpecies
:
Appearance
:
Attribute
:
Family/ies
:
Type
:
Fighting Style
:
Abilities
: [10 Abilities Max]
Digivolves From
: