Post by karin on Mar 12, 2021 0:46:08 GMT
Old Profile
Here


---
"Why do we need to expand our social circles anyway? I'm perfectly fine with how I am. I'm fine with how *I* work. If people just want to be acquainted to me to reap benefit in the future, isn't it insincere then? That sort of calculativeness.. I don't like it."
-Takamiya Karin-
---
Name: Takamiya Karin
Age: 18
Birthday: 23rd December
Birthplace: Nerima, Tokyo, Japan
Bloodtype: AB
Height: 162 cm
Weight: 45 kg
Class: Partnered Human (Partnered to Freya the Floramon)
Alignment: Chaotic Good-ish
Talents:
Organizing
Music, vocal specificly
Skills:
Acrobatics
Dancing
Modelling
A bit of wrestling
English
Weakness:
Disaster level cooking. It's totally inedible.
Household chores in general
Crest:
Loyalty
Digivice: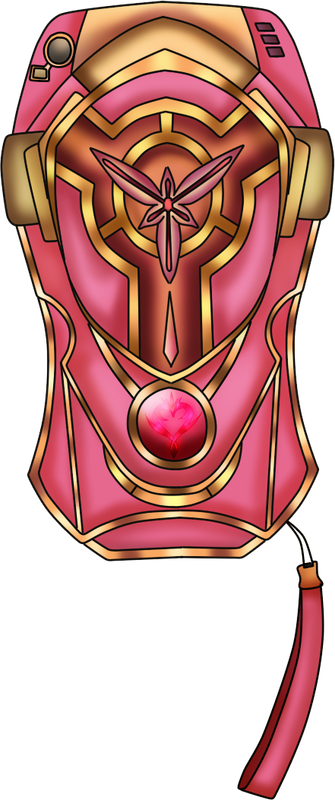 ---
PERSONALITY
---
Cynical, cold, and but the most all encompassing is probably "tsundere". Karin is like a guarded cat: She doesn't want anything to do with you, and is content to be left to her own device. Whle she can be civil and understanding, also logical, she's actually very emotion based. She dislikes heavy attachment and people who gets too close to her personal space. She dislikes anyone who meddles with her business, except those who she considered "weirdos"
Shaped by her past as a bullied and misunderstood girl, she tends to keep people at arm length. She doesn't mince words, and rarely shows her weaker side to people. If anything, many said that she's a capable girl... but even so, that's not quite true. She can be lonely, emotional, and even nonfunctional. She admitted she only pretended to be strong not to trick people, but to trick herself, otherwise she'll feel the weight of her own problem crashing dowm on herself.
Those who knows Karin personally knows that she's also dual sided... in a sense that she's... actually quite easily attached to those who she calls "weirdos". She masks it with aloofness, but generally she's very meddling and the type that get concerned easily. Truly like a cat. She admitted that this is very hypocrite of her, but decided to just waves it off. Not really her problem really!
By the way, she loves cats. If there are anything that can distract her or absolutely cheers her up instantly, it's cats. She also reverts to cat speech the moment she saw one. Many wonders if she's actually capable of cat speech...
---
APPEARANCE
---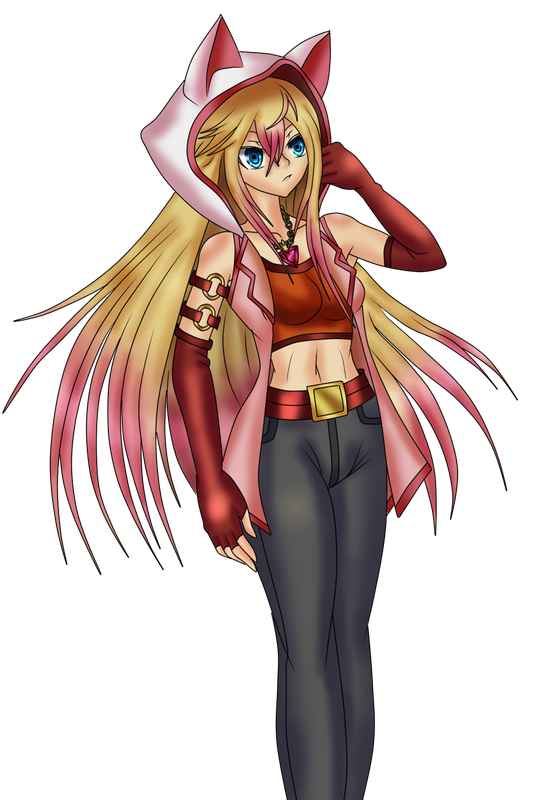 Karin is a medium height young woman of mixed descent (Caucasian and Asian. Her mother's parents came from US and her father is a Japanese). Her eyes are blue, while her hair are blond. This very long hair lately dyed pink to give accent of gradient (something that admittedly has gotten her into problem with some teachers. Thankfully she's able to shut them with her grades and performances in general). Her body is not quite toned, but it's traimed from various gymnastic training she's been doing to survive Digital World
Karin usually dressed in rather "liberating way" in her opinion- that is the typical "cool girl" look while in casual situation. Her choice of uniform however usually involves sweaters with long sleeves. Why the duality of choices of clothing is unknown, but she simply said that's how she rolls. She also wear glasses while reading and studying at school anyway. The only time she's not wearing something warm is during summer, in which she will stick with usual summer uniform.
By the way, she often spotted wearing cat related apparels. These are usually headphones or hoods or bonnets. She loves them, and even have a line of privately commissioned cat bonnets with chibified likeness of her cat, Iori, named IORIWORKS. (As a note, Iori is a tuxedo maine coon). If Karin can be honest, she preferred to wear a cat kigurumi wherever she goes... but she'd die inside if someone she knows spotted her with one, so that's not an option...
---
BACKGROUND
---
If you ask the girl herself of how to describe her life so far... she would say that the thing that stands out to her is that.... she stands out, among other people. Both in good way and bad way. Karin has never expressed herself in way that says she's a wallflower. In fact, it was the exact opposite: She stoods out in her peer, intentionally or unintentionally.
Ever since childhood, Karin never minced her words, absolutely frank. Whether you wanted to hear what she said or not, to her that's not her problem, at least that's how she views it. This difference in attitude from other kids are most likely from her mother side of the family, who stresses importance of staying true to oneself. However Karin has yet to understood the limitation of this freedom of staying true to oneself. It doesn't help that a lot of kids back in kindergarten likes her because her frankness and her honesty. They can tell anything to her and she doesn't seem to take anything too much to heart.
However,as you grew older, so does the idea that you have conform to the societal expectation. Karin's mood reading sort of dwarfed by her own vocalness. Alas, the one she offended that day were someone who's as popular as she is in the class. Although Karin apologized for her voicing her thoughts out, she never apologized about the content itself. Karin has already forgotten what she spoke that day... but it changed her life forever. At first it was minor harrassment like gossip, then it escalated into bullying...
Karin's fault was perhaps two: First she refused to do anything about it and just simply takes it, thinking it doesn't worth her time. Second: Her refusal to apologize further, because at this point she feels she's already a victim rather than the one at fault because the magnitude of the harrassment. So she just carried on... at least until the whole class suddenly turned against her. Even her best friend.
"You're so annoying. Just because we knew each other from kindergarten, you clung to me like parasite"... Was what the girl told her as she tossed bucket of dirty water to her.
Since then... she changed drastically. Karin's word becomes venomous and harsh. Civility no longer important to her. Both her and a childhood friend, Ryouta, had to transfer school after causing an issue. Ryouta fought Karin's male classmates when he heard they speaking bad about her, and Karin herself fought with four of her tormentors, including her former best friend. She did not explain her reason of moving. She simply just moved away, wordlessly.
Perhaps moving away turned out to be much more boonful for her. She gained a partner Digimon, new friends, and peoples she could trust... But life is fragile, and Digital World is cruel. Her friends snatched away one by one, and so does her memories of her earlier days of Digital World. Now, two years since her re-bonded with her partner, who now named Freya...
Along with the passing years, she got quite the interesting jobs in her resume. She's part of two singers in a J-Rock band (the other is Freya), Rosenengel. She modelled, she does some actings here and there... let's just say the resume sort of leads her to mini celebrity-like life. Yet at the same time, she has grown tired. Tired of being left alone, tired of bonding with someone and they gone next time she knew it. If people come and go, why must she create new relationship? Why can't she be content on what she have at this moment? Isn't staying unchanging in itself is loyalty? Yet her heart is disappointed with this cowardice,a dn thus she stagnated.
Lost in what to do, even about whether she will attend university or not, she walks with no goal in mind.