Post by tetsushi on Apr 9, 2021 16:00:35 GMT
"You and I, we can still grow much more. So what if you have to lose your evolution? We can get there again, just like before. Don't you agree, Gryz?"
-Shishidou Tetsushi-
---
Name: Shishidou Tetsushi
Age: 13
Birthday: 9th August
Birthplace: Sapporo, Hokkaido, Japan
Bloodtype: O
Height: 158 cm
Weight: 90 kg
Class: Partnered Human
Alignment: Lawful Good
Talents:
High pain tolerance
He said he rarely got sick, just once or twice a year, and usually just a minor one
Skill:
Martial arts (practices bajiquan)
Woodcraft
Farming
Cooking (quite good for a home cook)
Weakness:
Often overestimates his own limits (often pushing himself too much)
Can be really stubborn when he's denied
A little bit of temper issue at the moment... being teen sucks
Crest: Growth
Digivice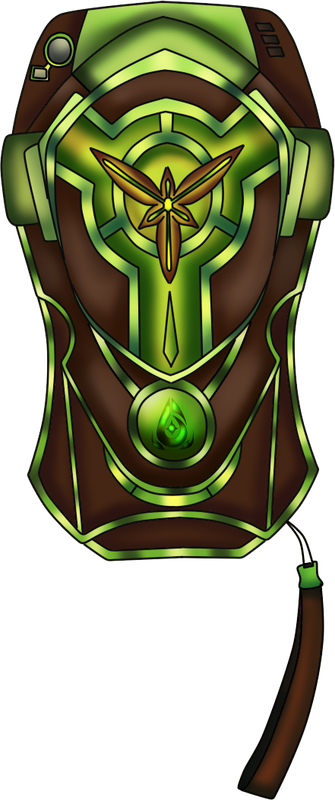 ---
PERSONALITY
---
A bundle of joy and energy, the kind of guy who is always sunny and bright no matter what! Well, at least he hopes so. Tetsu is a boy who was... literally, changed a lot by Digital World. Entering the Digital World at 11 years old made him probably more independent compared to his peers. There's a sense of experience behind his words rather than just lip service. So if it sounded like he's dreaming big and just wanted to impress, it's not because he's merely dreaming: He believe that it's achievable from experience.
If someone were to ask how to describe Tetsu, they will probably notice... first thing first that he always tries his best in everything he do no matter what. Even if he do badly, he wouldn't be too sad about it, saying "it's fine to be frustrated, but I won't wail on it". Next time, they would see him improve. But even so, does the boy himself happy with the result? "I'm happy," he would say "but I won't stop and just be happy either.". The testament to this desire to grow is probably his own body. It's rumored that Tetsu could bench two grown adults easily. "Not that easily," he would correct "but I can do that, yeah"
Tetsu generally treats other like how he want to be treated. He grew to respect his elderies and be kind toward the younger ones. There's part of him that still think he's a "normal" kid, only with stronger physique, but there's also part of him that wishes to be hero for the younger ones, set an example or sort. Perhaps from hanging around with Ryouta too much, there's part of Tetsu that hates bullies and abusers. Normally he would try to diffuse the situation first, but if they're repeat offender... well, jaw being dislocated is probably the least of your worry. The boy is really, really strong.
---
APPEARANCE
---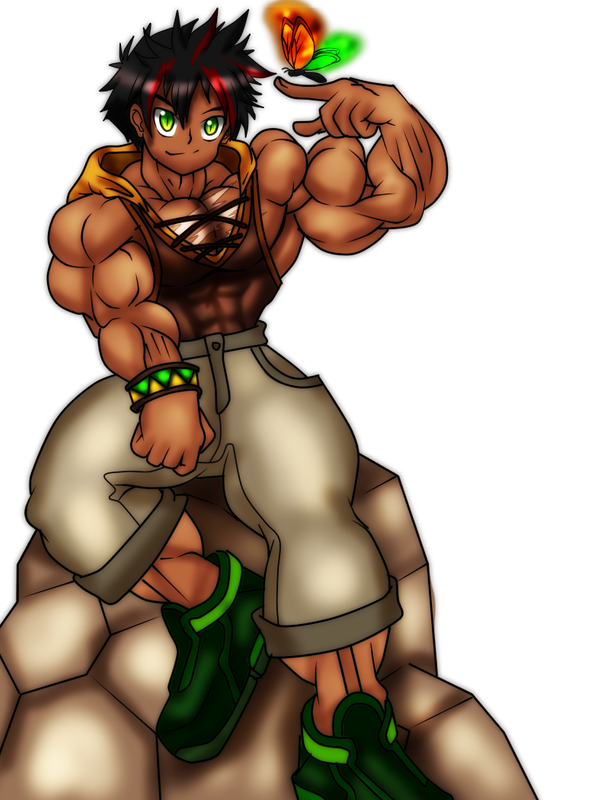 \
Tetsu is a 13 years old (almost 14) with black hair (with red streaks after recent event), tanned skin and very muscular body. He said that this is threefold. One is because his biomerge with Gryz; secondly from his own constitution (he's diagnosed with Myostatin Deficiency related Hyperthropy) and third because tons of his time are poured in training to strengthen his body ever since he was 11. As result, you won't see this kind of physique on any early teenager, something that he's quite proud of. Don't ask him how many hours he trained. He doesn't keep tab on it.
Tetsu likes wearing lighter, yet loose flitting clothes. Such clothes usually involves no sleeves, laces, or rubber band. Stretching, yet skin tight outfits are fine too, he feels it's the best of both world. If he could avoid it, he'd rather not wear anything too on-the-code or formal. Something like gakuran and button up shirt are something that he rarely could find fitting on him by default. It's usually stretched to the seams, and before long one or two buttons might pop... That's in good days. In bad days the entire arms would just... you know, rip. As result, he had to custom order his school uniforms and formalwears.
---
HISTORY
---
Tetsu's life admittedly... doesn't quite start until he dived into Digital World. Prior to that he was just your regular farmboy who lived in Hokkaido. His college aged brother does not want to succeed the family's business, and so he took it upon himself to succeed it. Or so that was what he planned. Back then he was so stubborn and only care about his own world: Farming and his farmhouse. Unfortunately one day a terrible storm devastated the farm and killed some livestocks. While the house and farm is renovated, Tetsu and his parents moved to his grandfather's in Shibuya.
...Well, from that point on, Digital Worlc alled him. He was faced by different situation, and is shown such a new world, and was forced to look tat he's nothing but a frog in a well. And so his interest for this world ignited from that point on. What happened afterward? Growth, tons of it. His life in DW wasn't all rainbows and jewels to be honest. He have to balance two lives, hides any injuries that he got while in Digital World if he have to come home soon, and avioding getting killed in his adventure.
But the worst of it all is probably seeing a best friend's life lost in front of his very own eyes and he was powerless to help.
This... changed Tetsu, who have played "casual", visiting "guest" role so far. He spend more time in Digital World, training, improving himself, while at the same time also exploring his passions. His late friend was about the same age as him... perhaps it was his way to ensure that he lives without any regret. Perhaps it was survivor guilt, and he kind of want to live for both of his sake and his friend's. This cause the formerly slightly muscular boy to grew into the teen he is now.
Currently he lives with his grandfather who are quite affluent and several house assistants. His father and mother have returned to Hokkaido with his sister. He admittedly could go there anytime thanks to portal, but he prefers to stay in Shibuya due to several reasons... Mainly, he believes that he still can grow, both physically and mentally from his secret excursions.