Post by supesman on May 29, 2021 3:08:54 GMT
Name: Zack A. Zello
Alias: Digi-Rider
Age: 21
Gender: Male
Height: 5'8", 1.73m
Weight: 165 lbs
Alignment: Neutral Good. Zack had always been followed by a deep love and respect for the classical heroic archetype. The kind of person who does what's right, because it's right, damn the consequences. He follows it as much as he can, doing everything he can think of to keep the innocent and the weak out of harms way and serving up justice to the malicious and cruel in whatever way he can. He isn't violent by nature, seeing it as a last resort and will often try to talk down an opponent before being forced to hurt them and this can often lead to him pulling his punches when he can't afford it, especially if he can't help but sympathize with a plight that the methods have placed him on the opposite side of. To Zack, there is no greater good, or trade that can be made of one life for another, excluding giving up his own.
Birth Date: May 1st, 2000
Western Horoscope: Taurus
Birth Place: Zack was born in raised in the northeastern United States of America, most specifically the central region of the state of Maine.
Skills/Talents: The thing that almost anybody would notice about Zack upon hearing him talk for any length of time is that he has an encyclopedic knowledge of superhero media that is as vast and deep as it is totally useless in most cases. whether it be comic books, movies or games, the four color heroes and heroines of pop culture hold his imagination and his knowledge base fast and won't let go. Any even glancing turn of a conversation in that direction can easily see him spiraling down into tangents about it if not stopped promptly. There is always a comic books somewhere on his person, if you don't see it, look harder.
He could at best be described as a middling martial artist. He studied the craft for years because of the idea in the back of his mind that he would always attempt to be there for someone in trouble if it came down to it, and because of the wild fantasy of becoming a real life superhero if he ever got the chance. He never

pursued

it up to the highest levels, having no interest in the competition aspect of the sport and shying away from the most lethal aspects of more modernized martial studied. He is

competent

enough to get the drop on a surprised and unarmed opponent but against a true professional his level of

proficiency

would be mildly surprising/amusing at best. Anyone who underestimates him is in for an attempted sucker punch at least.

He has a decent head for geography and historical information, mostly because he has the bad habit of sucking up random bits of information that happen to be interesting to him and geography/local and larger history happens to be that for him most of the time. Remembering historical events that have been told to him is easier than it might be for another person and keeping track of the general lay of the land around him is also something he can do with a surprising ease. he enjoys learning about new places and peoples and will always try to place his best foot forward when he can. His skills aren't nearly as well groomed as to be called cartography or trailblazing, they can be useful in certain ways.
Backpack Contents: The outside ornamentation of his backpack is gaudy to say the least, more honestly it can be described in drowning in as many stickers, pins and keychains as he could stick onto it, each of them a memento of a show, movie, game or book that was his obsession for a certain period of time. Most often tucked into a pocket to one side of the bag or the other is a book, usually a comic book but regular novels or history books aren't surprising to see in the spot as well. From the outside it looks like a totally normal backpack.
Open up the main pocket and at the top you will find a motorcycle helmet crammed in so tightly that it fills most of the space. Spray painted gold with twin black antenna marks above the brow. The tinted visor removed and replaced with a nose guard screwed into the front to divide a new set of lenses in a glittering emerald green. At best it looks like a halfway decent cosplay job for a character that doesn't exist but the fact that it was made in a garage from home project supplies is very obvious from every angle.

Stuffed beneath the helmet and more often than not stuffed in it for the extra space is a gold colored leather jacket and a matching pair of riding gloves. A pin set into the chest pocket showing three bees in flight, stingers glinting. He uses it as a makeshift insignia for his new digital hero persona. He keeps a couple of handfuls of

granola

and other calorie dense food bars in the remaining pockets and space as well as a large refillable bottle of water, useful both on long class days, errand running and multi day jaunts to the digital world.
Digivice:
Zack's Digivice is a Digivice model iC though instead of in any of the other known colors his is mostly a deep,

glittering

gold with a bronzed brown accent color around the screen and the ring attaching it to a keychain. The normally white sides and back of the device are instead black, leaving him with a device that matches the main form of his digimon partner perfectly. He usually keeps it stowed in a thin cotton sleeve that hides the strange device from sight even while it hangs from the corner of his backpack or is shoved into a pocket. it's clear he's taking meticulous care of it so far, still shining like new or even better.
Personality: Zack can mostly be described as the kind of person who seems like he jumped out of the frame of a Saturday morning cartoon, for both better and worse. He's kind, caring and friendly, always doing his best to do right by people even if it means going out of his way or even putting himself and his personal happiness and comfort at stake or giving them up entirely. He's a very cheerful and companionable person even if it does come with a slight streak for sarcastic observation that can often land him in deeper trouble than he or anyone around him would like. One he gets attached to someone his sense of loyalty is undying and he will walk across town in the middle of the night to help a friend with even the smallest of problems.
That being said, this comes with plenty of downsides. His

naivete

knows nearly no bounds and he's willing to trust people far past the point where it would cross the border into insanity with other people. Even when other people would be catching dozens of red flags about a situation, unless Zack has been directly betrayed or has seen a person do or say something that directly and heavily conflicts with his own morality he's going to continue trying to help them regardless. Even after one of those things has happened he's more than willing to at least make the attempt to believe that someone has changed for the better given the flimsiest possible

explanation

.
His heroic moral complex can also make him very bullheaded, stubborn and obtuse around people with whom he disagrees, especially people who can't abide by his constant cycle of going miles out of his own way to help people on the flimsiest of pretenses. Should he plant his feet on something that he considers a moral issue it will take more than hell and high water to move him off the hill he plans to die on. This can also lead him to speak up to corrupt authority figures or people he has no hope of fighting just because he's not capable of keeping his mouth shut even if saying exactly what he thinks is going to get him hurt.

The final character flaw linking to that would be his lacking sense of self preservation or self care. He always puts himself in line after others, taking as many steps as he can to help those around him before the thought of helping himself to any degree even crosses his mind. He will bang his head against an impossible problem to the point of physical, mental and emotional collapse if he knows that any of that energy is going toward helping others even. He doesn't believe in no-win scenarios even when one is staring him right in the face and he will keep trying and failing solutions for as long as he can until either the problem buckles under the pressure of his persistence or his own body does.
Appearance: Zack is an especially pale young man with platinum blonde hair and muddled blue-grey eyes. He has a skinny but muscular build owing to his many years of physical fitness and martial arts training though he isn't so built as to do more than lightly surprise someone who isn't suspecting it. Despite that he is a man who has an overabundance of scars for his age, each one coming from a story of him getting in fat over his head helping someone out and not quitting until the job got done. The most noticeable trio of scars are one on his forehead where he was hit in the head with a ball of blacktop defending fellow classmates from a bully, one on his cheek he gained after toppling off a two story railing retrieving a lost cat and one on the outside of his upper right thigh he got from lifting an old tractor off of a friend during a vacation long ago. Most of the rest are faded and not as noticeable as the three largest and most prominent.
He is not a fashion forward kind of person, mostly existing in various colorful

graphic

t-shirts and loose fitted sweatpants or khakis. He has a penchant for warming clothing because of his northeastern upbringing so above those shirts he can often be found in large, puffy jackets or at least a downy sweatshirt with something soft and fuzzy lining the insides. his shoes are battered and beaten but only in the kind of way that makes it clear that he doesn't buy a new pair until the old pair are practically falling off of his feet. He doesn't shy away from bright

eye-catching

colors even if the clothing style itself is rather pedestrian. He will, however, jump at any chance offered to wear a cape and he will do so with zero percent irony or self awareness of any kind.
SAMURAI FLAMENCO
•
Masayoshi Hazama
• Zack A. Zello
Personal History: Zack A. Zello was born into a family that was well off enough, he is the direct middle child in a family of seven, one brother and a sister who are older than him and two sisters that are younger than him. He learned to read from comic books and since the earliest moments where he could he has always been attached to the exploits of superheroes and associated characters. Comic after comic after comic piled up on his bedside table at night as the images of these people granted extranormal skill, means or power helping those around him became etched into his mind. As soon as he could he became a dependable helper and companion for his peers often earning himself the ire of not only local bullies but also more adult threats to the students around him that left him in hot water more than once.
Zack always knew that his calling would be in a job that allowed him to help others in a way that they could carry with them for the rest of their lives and combined with his love of literature and storytelling he jumped at the

opportunity

to enroll in a Fiction and Fantasy Studies program at his local university. Now in his Junior year of that degree he took a couple of semesters to study a similar fictional arts program in the heart of Japan, as

enamored

with Anime and Manga almost as much as he is the other forms of media that hold onto his heart.

His Japanese isn't great and he often drops folksy turns of phrase from his native stomping grounds into the language that do not translate whatsoever into the new tongue but nobody could ever accuse him of not being friendly, outgoing or enthusiastic enough to make it in the heart of the island nation's metropolis.
Digimon Name: Marigold
Default Form: Rookie (Fanbeemon)
Gender: Female
Alignment: Marigold follows in the footsteps of her "father" as closely as she can, dedicated to his ideals of helping others at cost to herself in a way that places her firmly in the same Neutral Good as he father figure. She not only wants to help others the same way he does but she also wants to help him as much as she can so that he doesn't end up dead because of his better nature and lack of common sense. She is equally as obtuse and stubborn when it comes to holding her moral ground as he is and tries her best to be supportive whenever and however she feels is best.
Skills/Talents: The wide, rounded points, mandibles and stinger that come naturally to her in her Rookie form have giving her a surprise talent when it comes to sewing and knitting. Able to pass the string from one sharp point on her body to the next with a fluidity that most people could only dream of with sewing or knitting needles she's easily able to keep both her "father's" costume and he beloved red scarf in good repair. It also allows her to help others under the guise of her father doing it, repairing damaged clothing with glee and only sometimes adding a small flair of her own into the new patch or stitch.
Inventory: Gifted upon her moment of "birth" and one of her first memories, her most cherished possession is the deep crimson handkerchief tied up into a scarf that hangs around her neck no matter which form she takes. It is not only a symbol of her connection with her Tamer partner but also serves as a "costume" of her own, the kind of accessory that makes this one insectoid digimon easily picked out amongst all the rest. She does he best to keep it in the best shape she possible can and is fiercely protective of it.
Personality: Youthful enthusiasm. Those are probably the best two words to describe Marigold and her relationship to the young man who has taken her in. Captured by and nurtured with the same optimistic and heroic ideals that her mentor holds she lives every day trying her best to live up to them in the same way that she sees him as doing.
This comes with the same flaws that are easy to see in her father figure, an inability to keep her mouth shut around people that she sees as "bad guys", a nature that is too trusting by a country mile and the inability to retreat or stop if it would mean leaving someone else to suffer. The same way that her guardian puts others first and himself second, she does in equal measure with the

reverence

for his ideals that informs almost everything that she does.

The main difference is how fiercely and even violently protective of her "father" she can be. Because of her own past

experiences

she is not about to even entertain the idea of anything happening to him which can lead to a dissonance of her

willingness

to do anything to protect her heroic companion while also following the almost knightly code that he tries his best to teach her. Upon first meeting she is just as friendly, jovial and warm and he is but if she gets it into her mind that a person is a threat to the one she loves the most, she does not forgive, nor does she forget, and she will hold a bitter grudge and distrust for that person for a long, long time even if Zack is long since convinced that that person is trustworthy or has changed their ways.
Personal History: The earliest memory of her previous life is being tossed out into a puddle in the pouring rain. She didn't know why, she still doesn't know why a freshly hatched Digimon, barely old enough to pick up its own head let alone able to fend for itself was tossed haphazardly onto the forest floor. Her prospects since then were not good and she lived only long enough to feel how much she was suffering. Struggling to find something to fill the aching hole for food in her stomach and the aching hold for love in her heart finding precious little of either before she finally faded away from her first life without the strength to digivolve even once.
Given a new lease on life and a Tamer who showers her with love and affection she is dedicated to leaving that former, short life behind like a bad dream, tossing away her feeling of abandonment and anxiety for the new warmth and family she has been blessed with.
DIGIMON'S INITIAL EVOLUTION LINE
---
FreshSpecies
: Pupumon
Appearance
:
Attribute
: Free
Family/ies
: None
Type
: Slime
Fighting Style
: At this stage, Marigold can barely move herself around under her own power, let alone fight. Which won't stop her from trying if she feels she doesn't have another choice. The wings are basically for show, barely able to buzz hard enough that she can pick all of her weight off the floor at one time, let alone actually fly.
Abilities
: Poison Bubbles: While the bubbles this form can spit out are technically acidic in a chemical sense and have a slight corosion effect, they're not useful for much more than causing ever so slight irritation or stinging upon contact so calling them "poison" is a bit of a stretch (0 post cooldown)
Digivolves To
: Puroromon
---
In-TrainingSpecies
:
Appearance
: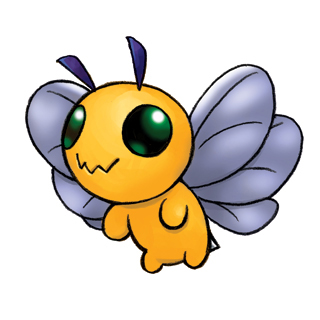 Attribute
: Free
Family/ies
: None
Type
: Larva
Fighting Style
: This form of Marigold is much more maneuverable in the air, able to actually fly and maintain a hold on its own bodyweight for a sustained period of time, though certainly not indefinatley. Granted a new set of sharp teeth and a small but pointed stinger, she is actually able to maintain something resembling combat in this form, even if, in comparison, it is very small and frail.
Abilities
: Stinging!: Using the itty-bitty tail on her rear end, she can inject a small amount of poison that causes local pain and numbness, slowing the movement of a single limb or area on a digimon for a very short time directly around where the venom was injected. The tiny, gentle piercing does no real physical damage otherwise. (1 post effect/cooldown)
Buzz Butt Drop!: By flying a few feet above her target, she can drop her stinger onto the attack with enough for for the piercing to do some actual harm, not only for the jabbing of her stinger into her opponent but also because of all of her weight slamming home behind it. (0 post cooldown)
Digivolves From
: Pupumon
Digivolves To
: Fanbeemon
Level: Rookie
Species: Fanbeemon
Appearance: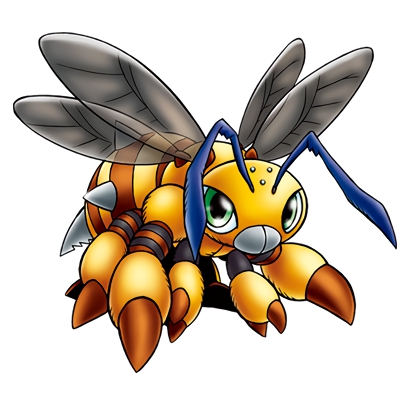 Attribute: Virus
Family/ies: Wind Guardians
Type: Insectoid.
Fighting Style: Now with some real muscle and strength in her body, Marigold can finally cut loose and do some actual damage! Because of her broad wingspan compared to the relative short length of her legs, she spends most of her time in a fight flitting about in the air, dodging left and right seemingly at random with the turning of the breeze. Though, because of those six, short, stocky limbs when she does grab hold of something, she doesn't let go if she can help it which can make tangling with her a real sticky situation!
Abilities: Gear Stinger!: Marigold brings her rear to bare against her opponent and fires a barbed stinger at them. The sharp, barbed ranged weapon is enough to do some real damage but because of the barb getting caught in any shields or walls placed in front of it, and it's lack of venom, pure physical damage is all its really good for. (0 turn cooldown)
Bee-Bee Call!: Summons two small bumblebees made out of glowing golden light that shoot forward toward her target at opposite angles before detonating with a stinging burst on impact unless swatted out of the sky by a tool or appendage that won't feel their stinging charge (2 turn cooldown)
Honey Bucket!: Marigold spits a mouthful of warm, gooey honey at her foe, either placing a sticky stumbling black at one of their feet or sticking one part of their body to another. It's not enough to actually hold someone in place but it's enough to slow down an attack at a crucial moment. The slowdown effect lasts for only a single turn and only effects one limb or area of the body (2 turn cooldown)
Stinger Ram!: Marigold spins around in midair, showing her backside to the opponent and goes all out with a slam of her stinger that with the full force of her weight and momentum should be enough to crash through defensive hides and shields long enough for her to really leave a mark! (3 post cooldown)
Digivolves From: Puroromon
Digivolves To: Stingmon
---
ChampionSpecies
: Stingmon
Appearance
: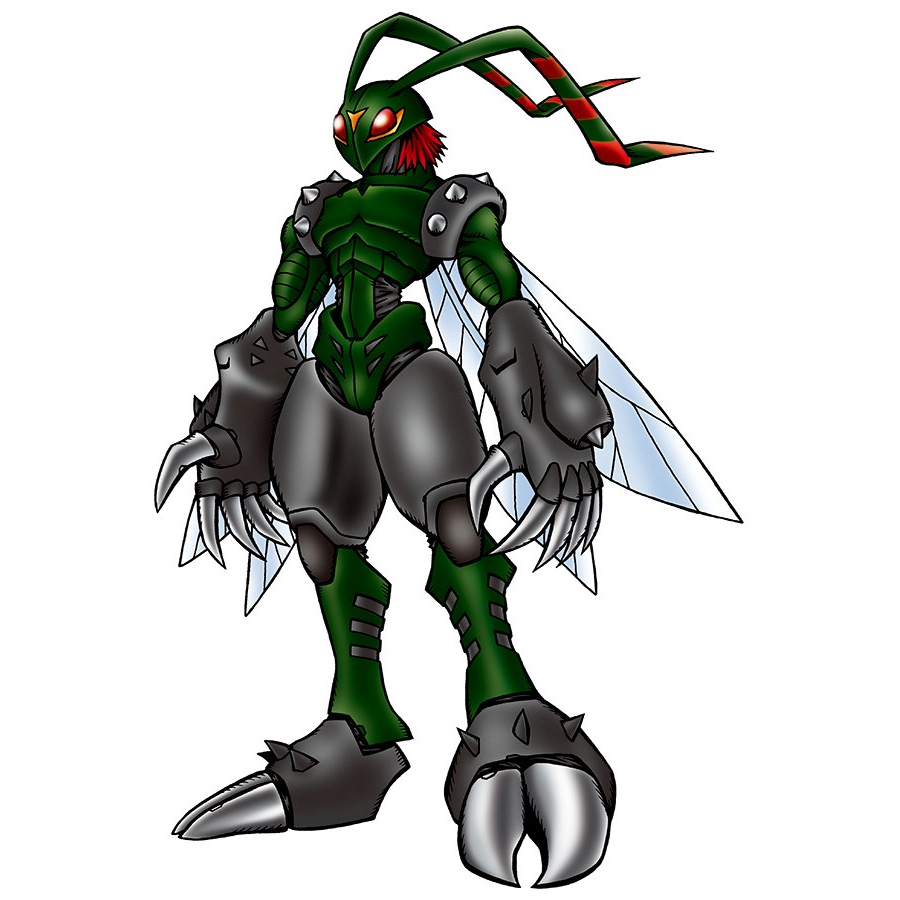 Attribute
: Virus
Family/ies
: Wind Guardians
Type
: Insectoid
Fighting Style
: This body is the first one Marigold gets that is designed to dish out the real hurt on people. An armored carapace body and thick claws on the hands and feet while still retaining large and robust enough wings to allow her to dance in midair the same as she always had, zipping back and forth like a blur at the corner of vision before coming out of the woodwork to slash, stab and slam with all of her might.
Abilities
: Spiking Finish!: Simple, but effective. Getting in at the right range to the person she's fighting and delivering a heavy smacking backhand with the spikes across the back of her armored gauntlets, getting as much weight and momentum as possible behind the strike doesn't make up for the fake that its ease of use and short distance make it a weak, but usable go to move (0 turn cooldown)
Hell Squeeze!: Reaching out with both of her heavy clawed hands she grabs a hold of any vulnerable part of her opponent that she can reach, clenching down with both hands as hard as she can until she hears or feels something give. Leaves an effect that slows the opponent down for two turns if not toppling them right to the mat for the three count outright (4 turn cooldown)
Moon Shooter!: Pulling back and drawing a bead on her target, she fires the heavy spikes from the launchers on her lower arms, peppering the target with a half a dozen shots before she's forced to rest and reload. Each of the shots does a moderate amount of damage, all of them hitting home would certainly sting (2 turn cooldown)
Double Moon Shooter!: Drawing back for her Moon shooter, instead of a half a dozen bolts flying free in a salvo, it's two massive spikes slamming home and piercing into the defenses of her opponent, not only is it easy to catch someone of guard with the railroad spike sized projectiles, their speed and weight speak for themselves (3 turn cooldown)
Assassin's Dance!: Darting in close somewhere under her opponent's guard she spins as fast as her wings will let her go, getting every blade, point and edge she can manage digging into the soft parts of her opponent's body. It's risky, it's heavy and it usually leaves her wide open to whatever return shot the other guy has in mind, it's a kill or be killed kind of option. (5 post cooldown)
Cicada Song!: Flying in a ring above the head of her opponent, or at the very least out of her reach, she buzzes her wings together in a way that makes the sound ring in the ear of the other fighter, leaving the lingering of the sound for a while after she's stopped. Keeping the opponent off balance and covering their ears or closing their eyes is the name of the game, even if it won't physically hurt anyone. The ringing can only persist for one turn before the sound falls away (3 post cooldown)
Digivolves From
: Fanbeemon
Digivolves To
:Jewelbeemon
---
UltimateSpecies
: JewelBeemon
Appearance
: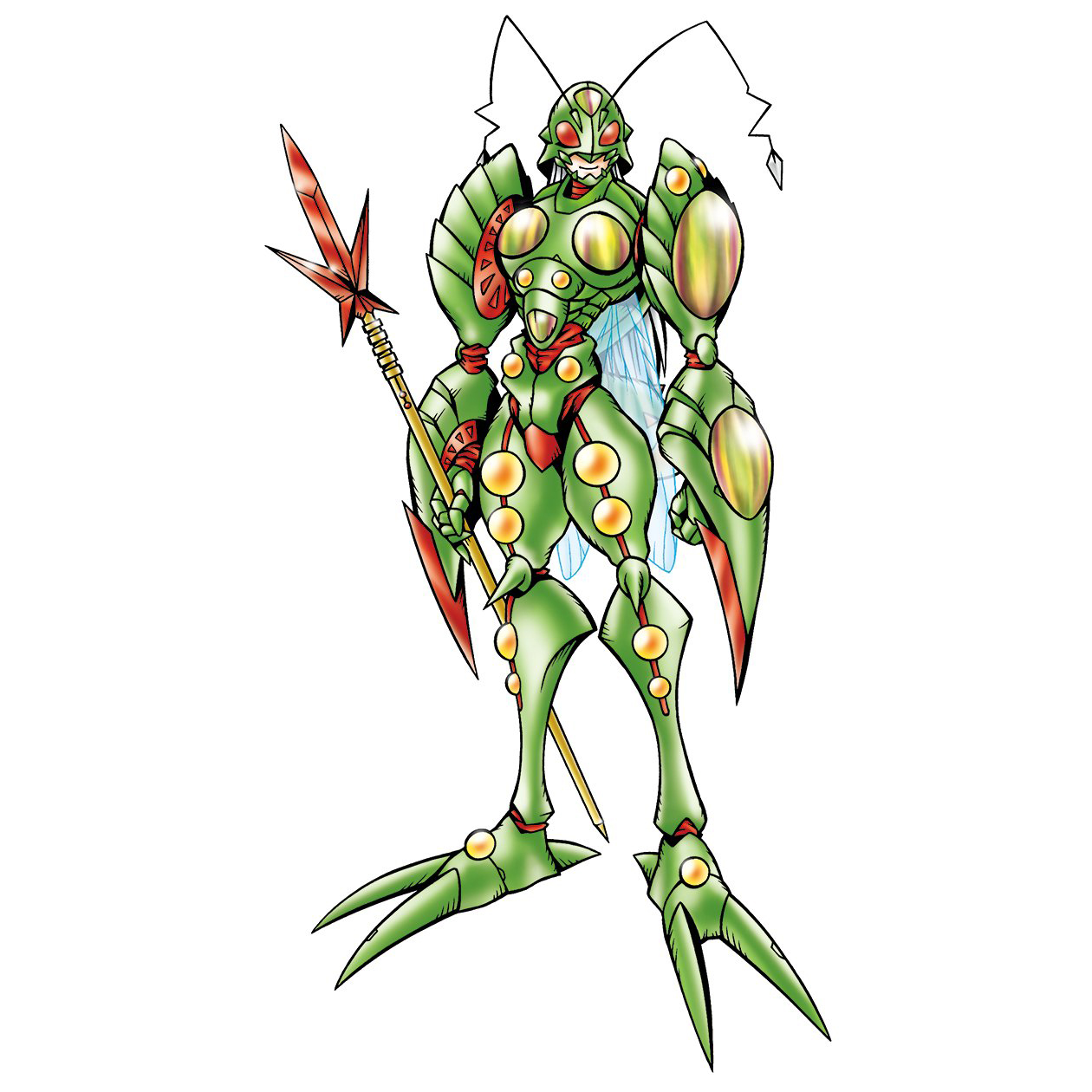 Attribute
: Vaccine
Family/ies
: Nature Spirits, Virus Busters
Type
: Insect
Fighting Style
: Marigold is really starting to get the hang of this whole "fighting for justice bit" she's extravagant, acrobatic and ruthless. She dishes out pain either with her weapons or with her bare hands to earth shaking degrees but without the raw, uncontrolled power and rage that came naturally to her as a younger digimon. Every move is calculated to be as devastating and powerful as needed, to put an opponent on the ground before they can hurt someone.
Abilities
: [7 Abilities Max]
1. Mushi Change!
: Mushi Change allows Marigold to transform her JewelBeemon body in into one of three different forms. The mechanism by which this occurs begins with a call of "Mushi Change" and holding her right arm across her chest with one of the jewels of the forearms facing out. This jewel "blinks" revealing one of the three symbols, a Bee, a Hercules Beetle and a Grasshopper. The stat and weapon changes of the forms are listed below (One Per Thread, Passive)
a. Bee Form: The Bee Form of Marigold's JewelBeemon body is the default form, the one she digivolves into and the one that is possessed of the most rounded physical attributes, as well as being able to use both the wrist blades and crimson pointed staff, whereas the other two forms can only use one of each.
b. Hercules Beetle Form: The Hercules Beetle Form is a form much
more
concerned with strength and defense than with agility or grace. The mouth piece of her exoskeleton closes and two massive "horns" sprout from her shoulders. The crimson tipped spear she carries is reabsorbed into her body, the energy and data being put into extra armor and making her gauntlet blades sharper and stronger. This form loses the use of the staff, loses twenty percent of it's speed and agility for a fifty percent increase in strength and defense.
c. Grasshopper Form: The Grasshopper form is a form based on speed and precision, less on power and physical punishment. Much of the armor of her body is reabsorbed, including the blades of her gauntlets, using that absorbed data as fuel for bursts of speed and acrobatics that none of her other forms could hope to match. She is also more well trained to use her spear/staff in this form. This form loses use of her arm blades, loses twenty percent of strength and defense for a fifty percent increase in speed and agility.
2. Spike Buster!: Marigold swings either the arm blades of her gauntlets or the head of her spear in a sharp, cracking motion that creates a boom of energy toward the target. it is her most consistent attack that is able to be given off at a decent, though still close quarter ranger with a practiced, easy to commit motion. (0 Post Cooldown)

3. Shot Claw!: Marigold either tosses her spear like a javelin or picks up a large object in her

environment

like a boulder or a table and tosses it overhead, creating a large, arcing projectile for her opponent to dodge. It is her best sheild breaking option but is best saved for the beginning of a fight because of the requirement of charging her projection with energy. The range it provides is often staggering, allowing her to sometimes gain a first hit before the enemy

realizes

she's there. This is a shield breaking move. (4 post cooldown)

4. JewelBee Punch!: Marigold pulls back and delivers either a heavy, punishing punch or a quick sucker punch to her opponent, leaving a mark in the shape of her fist that sizzles and glows on the opponent's skin for a few seconds before detonating in a large explosion that engulfs the target in gushing gouts of flame (2 post cooldown)

5. JewelBee Kick!: Marigold either launches herself with a two foot flying side kick or picks up one

heavy

foot and kicks downward at her opponent, leaving and imprint of her foot that sizzles and burns on the opponent's skin for a few seconds before detonating, engulfing the opponent in massive gouts of flame. This attack works on the same mechanism as her JewelBee Punch but is stronger down to the increased weight and momentum of a kick compared to a punch. (3 post cooldown)

6. JewelBee Break!: Marigold engulfs her entire body in burning data energy before shunting forward with her wings and performing a violent shoulder crash into the chest or gut of her enemy, slamming into them with all of her might. This is her penultimate attack, giving up a large degree of energy for an equal amount of damage. Lowering her stamina and speed by half until the end of the cooldown (5 post cooldown)



7. JewelBee Buster!: All of the gems along Marigold's body glow, sucking in data and energy from the surrounding area forming into a massive, burning ball at the center of her chest that she then fires off in an absurdly destructive beam. This attack sucks everything they have out of her, devolving her to at least her champion form for the rest of the fight is not knocking her cold outright. (Once Per Thread)
Digivolves From
: Stingmon
Digivolves To
: GrandisKuawagamon.
---
MegaSpecies
: Grandis Kuwagamon
Appearance
: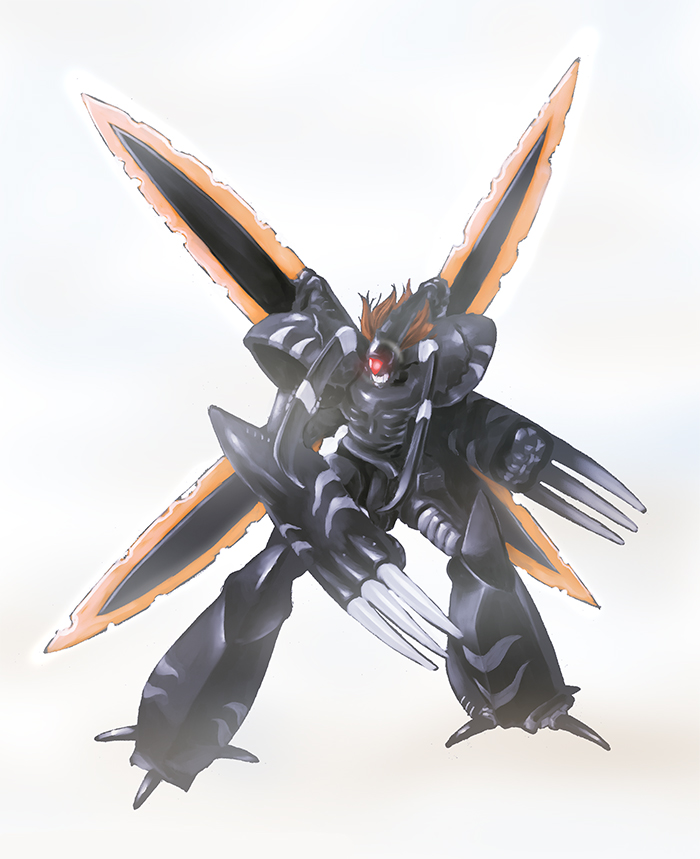 Attribute
: Virus
Family/ies
: Nature Spirits, Jungle Troopers, Metal Empire
Type
: Insect
Fighting Style
: This is the culmination of all of Marigold's heroic preparation and training, every ounce of her father's martial instruction and all the time she's put in as his protégé and partner. She moves like a trained martial artists, snapping her weight from one foot to the other and smashing outward with kicks and punches that seem to have only left her side seconds before. Her blade and energy attacks are punishing and well aimed, used against opponents already knocked off guard to blast them away with a final, finishing blow. She still holds a small amount more anger in her fighting than her father, hitting harder, faster and with less mercy than the joking vigilante who raised her.
Abilities
: [9 Abilities Max]
1. Blade Change!:
Metal Change is the evolution of Marigold's Mushi Change ability in her previous form. The activation of the ability, although it is a passive in nature, is done with Marigold calling out "Blade Change!" and then crossing both of her arms over her chest. The armor of her body mutates into slightly new form of the two alternative forms she possesses as well as flashing into a new gleaming armored color. The forms and their associated stat alterations and drawbacks are listed below. (Once Per Thread, Passive)

a. Claw Form: Claw Form is Marigold's most all around balanced form that also serves as the base form that she transforms into during each new cycle. Its gauntlets are equipped with a pair of three clawed gauntlets and four wings sprout out of the back, as well as sporting a black, shimmering color scheme dotted with gun metal grey stripes and waves.
b. Sword Form: The gauntlets on Marigold's arms merge their trio of claws to become a hulking blade on each hand as her carapace turns from a deep black into a gleaming, knightly silver with glittering golden stripes. Her wings fold down against her shoulders and back in order to add an extra layer of armor as the density and strength of her armors increases, along with her weight that leaves this form stomping about the battlefield with more defense and attack power but less speed and losing the ability to fly. (Increases defense by 50%, reduces speed by 20% and removes the ability to fly)
c. Axe Form: The claws on Marigold's gauntlets merge and expand to large double headed axe blades on the back of her hands, massive cleaving weapons that increase her damage output by a massive margin. Her wings shrink and her armor noticeably thins in order to add as much material to the blades of her axes as possible, restricting her ability to fly to only a longer than normal leap that she uses to line up strong overhead chops and blows from above. (Increases attack by 50%, reduces defense by 20% and removes ability to fly)
d. Spear Form: The claws on Marigold's gauntlets merge together to form long, pointed spears sticking out from the back of her hands, the spine of the spears moving in gleaming metal all the way up her arms in order to reinforce the attacking points. Her weapons are noticeably thinner and made of less material than her other forms, some of that material having been moved into a larger, more impressive set of wings and heavier support on her joints and limbs that allow her a more acrobatic and quickly fluttering way of motion (Increases Speed by 50%, reduces attack power by 20%)
2. Gran Killer!:
Marigold lashes out with the blades on the backs of her arms, slashing and clawing at the opponent in what is her most basic and reliable attacking option. The attack doesn't change much between the different forms save for the motion made with her hands or the angle from which she attacks (0 Post Cooldown)
3. Grandis Scissor!:
Marigold slashes both of her weapons forward, creating a large X in the air that then launches at her opponent. This is her most basic ranged option and while it's stronger than her Gran Killer attack by a noticeable margin, it's not by much and mostly just serves as her most go-to ranged attack (1 Post Cooldown)
4. Grandis Chop!:
Marigold brings both of her arms down in a chopping motion that sends a booming shockwave forward in a heavy pillar in front of her, moving it along with a forward snap of her wings. Powerful enough to shatter buildings and boulders with a single shot it serves as a heavier ranged option with a larger payoff but a higher energy requirement (2 Post Cooldown)
5. Grandis Punch!:
Marigold reels back and delivers are hard punch to her opponent with the weapon on the back of her hand. The cut or wound delivered by the weapon sizzles, hisses and burns for a few short seconds before exploding in a secondary impact. This options is particularly good at breaking through an opponent's defenses and barricades. (2 Post Cooldown, Shield Breaking)
6.
Grandis Shoot!:
Collects a large amount of energy from all the way up her arms and spine and fires it through the metallic weapons on the back of her gantlets, creating a fiery ball that harshly impact the target, leaving a burned ring at the site of impact that burns and sizzles for a couple of seconds before bursting into a second explosion just as strong as the first. Without the hard physical blow this attack isn't as useful for breaking through shields, although its power is similar to Grandis Punch (2 Post Cooldown)
7.
Grandis Chop!:
Marigold brings both of her hands together, linking her hands and raising both of her arms to deliver a downward hammer blow that can either be delivered in melee range directly to the target or be brought down against the ground to send a rattling shockwave through the floor that will explode upward when underneath the target. This attack is a powerful spacing tool that is used to help Marigold keep the battle on her terms and to knock an enemy off their feet (3 Post Cooldown, Knockup)
8.
Grandis Break!:
Marigold energizes her entire body and shoots forward to drive her heavy shoulders into the opponent at center mass, hauling them backward until the pair collide with something or someone in the way, causing an explosion upon impact with any solid object that halts the momentum of the charge. The high momentum and energy poured into the charge can only go for so long though, fizzling out somewhere between fifty and a hundred feet if no contact is made. (3 Post Cooldown, Grapples until Marigold and the opponent hit something in the way)
9. Grandis Kick!:
Marigold leaps into the air and extends one or both feet depending on her form, slamming both of them into the opponent which creates a powerful explosive discharge and leaves one or two marks on the flesh of the opponent that sizzle and burn for a few seconds longer than the marts from Grandis Punch or Shoot before exploding in a MASSIVE conflagration. This is Marigold's final finishing move, meant to put opponents in a physical state where they can no longer fight. The start up lag means that this attack can only be used against already weakened or staggered opponents and is easy enough to dodge or counter if the opponent is still able and energetic enough to avoid it (4 Post Cooldown, Long Startup Lag)
Digivolves From
: JewleBeemon
Digivolves To
: TigerVespamon
---
Digimon Name
: Violet
Default Form
: Proto Gizmon
Gender
: N/A
Alignment
: Neutral Good. Violet is being raised by Zack and Marigold and as such is absorbing their morality into themselves as they grow and becomes a more fully fledged person, machine, thing. They are being taught that the greatest thing a person can dedicate themselves to is to do what's right, because it's right and for no other reason. They are developing a protective instinct for the people around them that places the safety of others before their own. They have also inherited their father's dislike bordering on hatred of bullies and crooks.
Skills/Talents
:
-Math:
Violet's computerized brain is very good at the one thing that computers will always be better at then humans, MATH. They are able to solve complex equations of multiple parts in mere seconds as they simply feed the numbers into their programming and repeats the answer it finds. Oftentimes it can come off as a party trick but it can also be strangely useful in odd scenarios.
-Recording:
Violet was created with an inbuilt camera and microphone within their body. Able to reply the video as a hologram projected from her larger yellow eye with the attached audio, they can record several hours worth of footage before needing to clear storage space for more. This skill is, as one could assume, invaluable for many reason related to their father and big sister's endless war on crime. It is also simply useful in day to day scenarios.
Inventory:

-
Crochet
Violet:
The only thing that Violet reliably keeps on their person at all times is the crochet violet that they have tucked beside on of their pointed purple "ears" it was a gift from their big sister and is one of the first things that Violet ever learned to truly hold dear despite their robotic programming. They is never seen without it and will go into an emotional outburst should it ever be damaged or lost.
Personality
: At first glance Violet can hardly be seen to have a personality at all. They were created as a drone and more often than not, despite the work of their father and big sister in attempt to open them up they are deadpan, unblinking and monotone through most conversation. Their way of expressing themselves is much more subtle in a way that makes any display of emotion instantly unforgettable. They will often take part in emotional gestures that other people didn't see or didn't notice only to be discovered later such as waking up early to prepare breakfast or going out to retrieve a gift for someone they care for to leave it beside their bed with no note or other identification that they were responsible. They are becoming much more open over time, slowly becoming more comfortable with openly showing emotion even if the way their body is designed only allows them to speak in stilted monotone and without a face to make expressions.
Personal History
: Violet was created as a drone for some unknown purpose. It can be assumed that some greater member of her evolution line created them for some task or other but none of that is as yet known. The first time anyone ever took notice of them was when they fell, smoking, into the garbage cans outside Zack and marigold's shelter in the outskirts of Rosewood. They took them inside and "repaired" them as best that they could only to discover that all of their objectives and memories had been totally fried, with no remaining links back to whatever mechanical task they were sent to accomplish. Since then, as is Zack's nature, they have been adopted into his family alongside his oldest daughter, the FanBeemon Marigold. Their mechanical, inhuman personality often puts them at odds with the emotional and zealous Marigold leaving the two siblings sometimes seeming to get along like cats and dogs even though they both, when push comes to shove, will go to any length for one another. They are not yet fully ready to embrace their father's chosen "profession" as a superhero/vigilante and often are made to stay back in a safe place observing the fights their father and sister get into rather than fully joining in themselves.
DIGIMON'S INITIAL EVOLUTION LINE
---
RookieSpecies
: Proto Gizmon
Appearance
: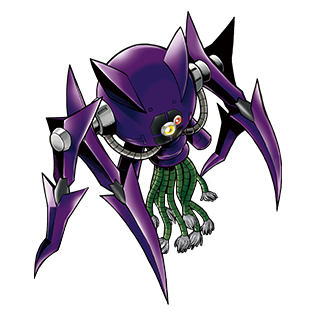 Attribute
: Data
Family/ies
: Metal Empire
Type
: Machine
Fighting Style
: Violet's style of taking in the world around them is analytical and mechanical, every move is measured and calculated for the greatest possible effect. The blades of their four rolling limbs and the lashing of their many dangling metallic wires usually come multiple at a time, each fired off in close sequences that is used for the maximum possible effect. Attacks from their red laser emitting eye are well aimed for as small and damaging a point as possible. Their hovering, gyro-stabilized keeps their aim constantly on point.
Abilities
:
-PT Helix:
Using their hovering and rotationally stabilized motion and the four long, bladed limbs that come off of their body, Violet flies forward spinning like a mad top. The four slashes are brought close together to deliver fast and potent damage to the outer shell, skin or muscle of their opponent (0 post cooldown)
-PT Laser:
An energy rich red laser is charged and then shot out from the secondary red eye on Violet's face. The burning, deliberately focused beam is tough enough to cut through solid rock, steel or any number of other materials. It a very useful utility even outside of its combat applications. Non piercing and non shield breaking in combat. (2 post cooldown)
-PT Shocker:
The long wire tendrils with their bare metallic filament ends are wrapped around the enemy, delivering powerful shocks to as many nervous centers and muscle groups as possible, delivering a short but powerful effect upon the movement and motion of the victim. Stuns the opponent, making movement impossible for the following post. (1 post effect, 2 post cooldown)
-PT Dazzle:
A jumbled, mixed up mishmash of images and sounds are projected from the lens that serves a Violet's forward facing eye directly into the face of her target at the closest possible range with the intent to dazzle, confuse and overwhelm the senses. Causing a blinding, dazzling effect for a short period of time as the enemy's senses adjust to the over stimulation (1 post effect, 2 post cooldown)