Post by Flynt Coal on Nov 18, 2021 11:58:32 GMT
Digimon Name
: Flynt Coal
Default Form
: In-Training
Gender
: Male
Alignment
: Chaotic Good
Skills/Talents
: None that he can recall!
Inventory:
None yet!
Personality
: Flynt is a happy Digimon who doesn't seem to have a care in the world. Often he tends to space out when adventuring around the Digital World. It is unsure why he does this but when he is not spaced out he tends to be willing to learn new things as he explores the world. When his attention is grabbed he can become very passionate about what has his attention.
As he saw a few of his friends leave the Village of Beginnings this sparked a form of wanderlust in him. Wanting to explore and discover the new world which he was born in. Always curious about new things unless it slips his mind.
Flynt has a long fuse but if you manage to lite the fuse then you will experience someone who will see you destroyed or at least attempted to be destroyed. Unless held back or he forgets who he was angry at. He does have a habit of sometimes just forgetting why he got angry for in the first place
He's not sure why he sometimes tends to zone out but it tends to happen on almost on a daily. It's like he is glitching out for some reason but it's probably nothing serious to worry about. He hasn't really worried about it but then again he figures when he learns to Digivolve into his stronger forms it would go away.
It seems even when he is passionately involved in an activity he can sudden zone out and forget what he was doing. Sometimes this causes him to jump from one passionate project to the next.
Personal History
: Was there something before Flynt was born? Was there a Digimon who became Flynt? These are questions he often thought of when it came to his own history. There were tales of Digimon who chose to remember who they were. It seemed Flynt was no one of those if he had a previous life.
His history was simple other than the many nights he looked up to the night sky. He was born like all Digimon were in the Village of Beginnings, with many other kinds of Digimon. He spent his early days playing with the other Digimon, learning how to be a Digimon while being taken care of. He seems to be a fairly new Digimon.
In his short life alive so far he has noticed many of his friends that he made in the village grow up and digivolve into their stronger forms, always wondering rather or not if he left the village he could get stronger and digivolve to his other forms. This is a question he pondered looking up to the sky many nights in and among his zoning out behavior.
Many times he has got to the edge of the Village, thinking now was his time to go explore but something would always remind him that he wasn't read. Or there would be other times where he would forget why he went to the edge of the village for and wander back...Waiting till he thinks he can handle going to the next stage of his life.
Will he ever truly grow beyond being just a baby Digimon? Will he ever figure out rather or not he was reborn from another powerful Digimon? Only time can truly tell.
DIGIMON'S INITIAL EVOLUTION LINE
---
FreshSpecies
: Mokumon
Appearance
:
Attribute
: None/Free
Family/ies
: None/Nightmare Soldiers
Type
: Smoke
Fighting Style
: He tends to not fight in this form and prefers to simply run away from danger. The only real noticble thing is it will create smokescreens to hide it's self so it can safely run away.
Abilities
:
Smokescreen - Scatters smoke from it's body to try to obscure the vision of anone attacking him Giving him a decent get away chance.
Digivolves To
: DemiMeramon
---
In-TrainingSpecies
: DemiMeramon
Appearance
:
Attribute
: None/Data/Free
Family/ies
: Metal Empire/Nightmare Soldiers
Type
: Flame
Fighting Style
: The fighting style is aggressive with little concern about self defense. Not so powerful offensive attacks like punches from it's fiery hands or a couple blasts of fire. Regardless of the risks Flynt in this form will take them, unless serious injured or out matched by stronger Digimon.
Abilities
:
Fireball
- A technique that sees the user hurl a ball of fire from ether their hands or their mouth. The fireball isn't very power but lightly burns the target if they are hit with it.
Heat Up
- A technique in which the user raises their body temperature to rapidly increase the heat of the air around them. Used primarily as a self-defense technique used against incoming melee attackers.
Digivolves From
: Mokumon
Digivolves To
: Vorvomon
---

RookieSpecies
: Vorvomon
Appearance
: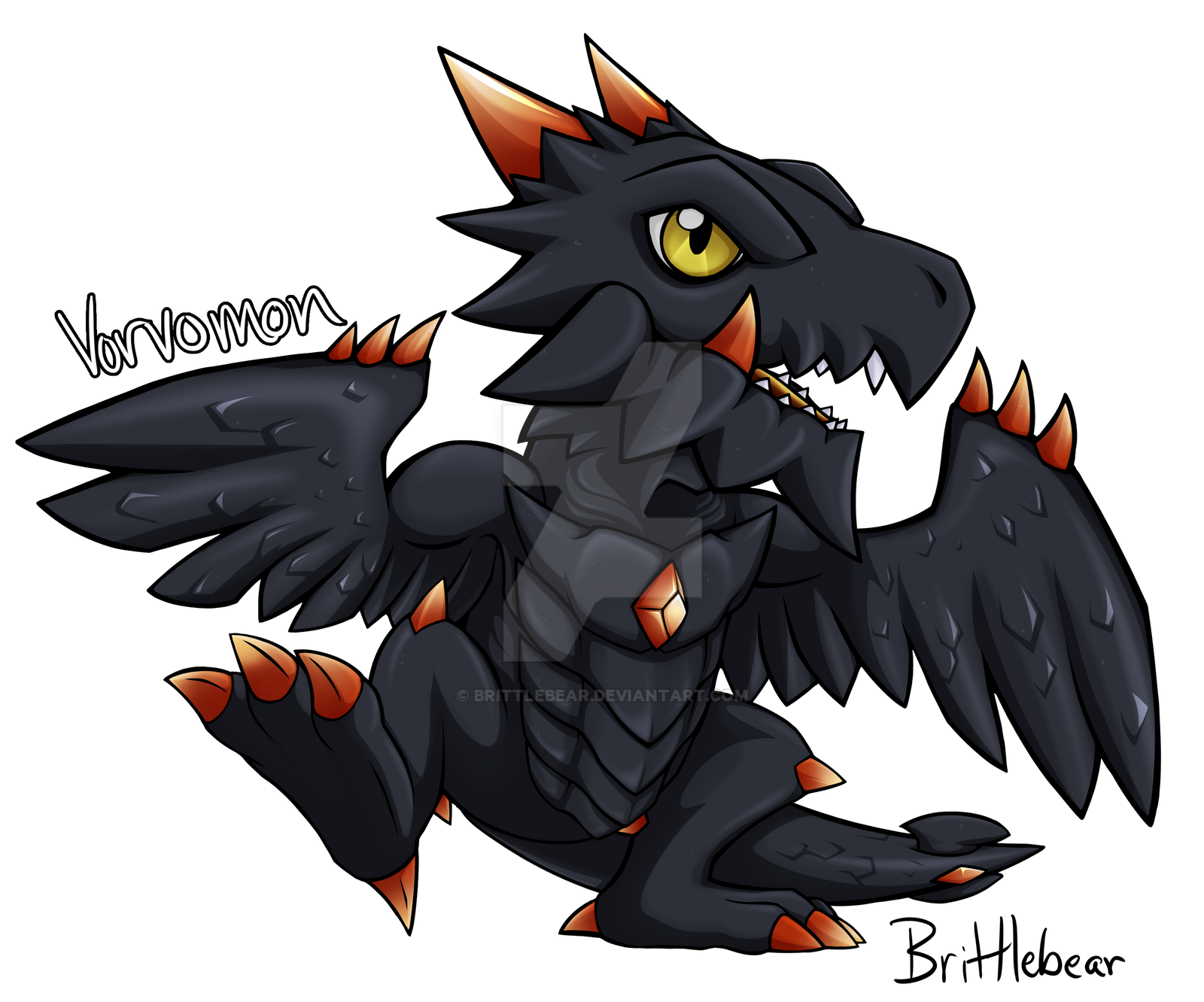 Attribute
: Virus
Family/ies
: Unknown
Type
: Rock Dragon
Fighting Style
: More defensive than DemiMeramon is. Taking more care to avoid hits that are otherwise dangerous to his well being. Tends to like to get into melee with his claws and teeth. Using his minimal amount of flight to avoid attacks.

Abilities
:
Petite Flame
- From his mouth he fires a very hot ball of fire that burns the opponent!
Molten Naw
- The most powerful move Vorvomon knows currently,Flames build around his teeth abd inside his mouth as he leaps, trying to bite down upon his opponent, both burning and tearing them apart. Tends not to let go once biting an opponent..
Crush Claw
- Gathers power into one of his clawed hand before swiping at his enemies, trying to tear through them with his claws.
Digivolves From
: DemiMeramon
Digivolves To
: Lavorvomon
---
Thread Tracker
First Thread - Hope of New Beginnings
---
Change Log
First Thread - Hope of New Beginnings
Updated Default Form from Fresh to In-Training
---
Mercenary 1
Digimon Name
: Adel
Default Form
: In-Training
Gender
: Male
Alignment
: Neutral Good
Skills/Talents
:
Servant Training
Swordsmanship
Inventory:
Nothing yet.
Personality
: A shy, reserved Digimon who rather stand off to the side when people are interacting. He prefers to not be the center of attention in groups of other Digimon. Whenever another person locks eyes upon him he quickly closes up and almost hides away, making himself a smaller the best he can. Flinching whenever anyone yells at him or even gives him a order in a commanding tone.
Deep down inside of that shy exterior there lies a warrior of justice. A warrior who is waiting to burst free from his shell. Whenever he is pushed around too much he can rebound. Wanting to change the world he lives in. Wanting to fight against the darkness that pollutes the world that he calls home.
When involving himself in a fight his personality changes from his shy, servant attitude to something more wild. Too someone who enjoys fighting, battling to his heart's content. Holding nothing back when he goes into battle evil. Unleashing his full power!
Fresh
In his Fresh form his personality changes a bit to reflect an excited little creature. Who seems to be not very smart or self aware. It is uncertain how much he recalls when in is in this form. He seems rather clueless rather then shy or reserved,
In-Training
Nothing much changes in this form, it seemed this one has his default personality. Perhaps this is where he spends most of his time?
Rookie
This form seems to be more outgoing and combative. Arguing with other people more to compensate for his shy reserved personality. He seems ready to defend himself from both social and physical threats. Ready to pounce if needed.
Personal History
: Adel history was twisted at some point. His life started like most baby Digimon at the Village of Beginnings. He lives there for a while being taken care of by the caretakers, growing, having fun. In his past he seemed rather clueless for a baby Digimon but for his species that was common.
It took him a little bit of time but he did digivolve into his next form quite easily. Digivolving from MetalKoromon to Kapurimon. Sure he still had problems with sensory but now he could understand what he was doing more. Him and a few other Digimon left the village.
On their way to the capital city of Terminus they got attacked in the Eastern forest. Quickly the small group of rookies and in-training digimon got overwhelmed. Many of them were defeated and absorbed for data from the more aggressive digimon. Soon Adel was the only one of his group left. Suddenly out of nowhere there was a dark armored Knightmon who swooped in to save the day. Dispatching the attacks and giving Adel a place to live.
Adel was brought to Terminus city to live with this Dark Knightmon. Finding out that he ran his own small organization of justice warriors. It wasn't long till the darkside of his savor was discovered. Soon Adel was beaten and trained in how to be a servant.
Each day he was forced to fight and learn how to fight if he wanted food. Adel seemed to adapt to this harsh treatment from his master, learning how to digivolve to Kotemon. This kid has promise. The Dark Knightmon would teach Adel how to fight and harness his inner strength. Ever time Adel failed a task he would be violent beaten down to his In-Training elvel.
Life would be like this until one crusading digimon attacked the manor. During the chaos of the attack Adel used it as a chance to run away. Fleeing back to the Eastern forest. Fiding refuge in Rosewood City.
DIGIMON'S INITIAL EVOLUTION LINE
---
FreshSpecies
: MetalKoromon
Appearance
:


Attribute
: None/Free
Family/ies
: Metal Empire/Nightmare Soldier
Type
: Machine
Fighting Style
: MetalKoromon doesn't really have a fighting style like most baby Digimon. When threatened however he will attemp to use Jamming Powder to try to get away.
Abilities
:
Digivolves To
: Kapurimon
---
In-TrainingSpecies
: Kapurimon
Appearance
: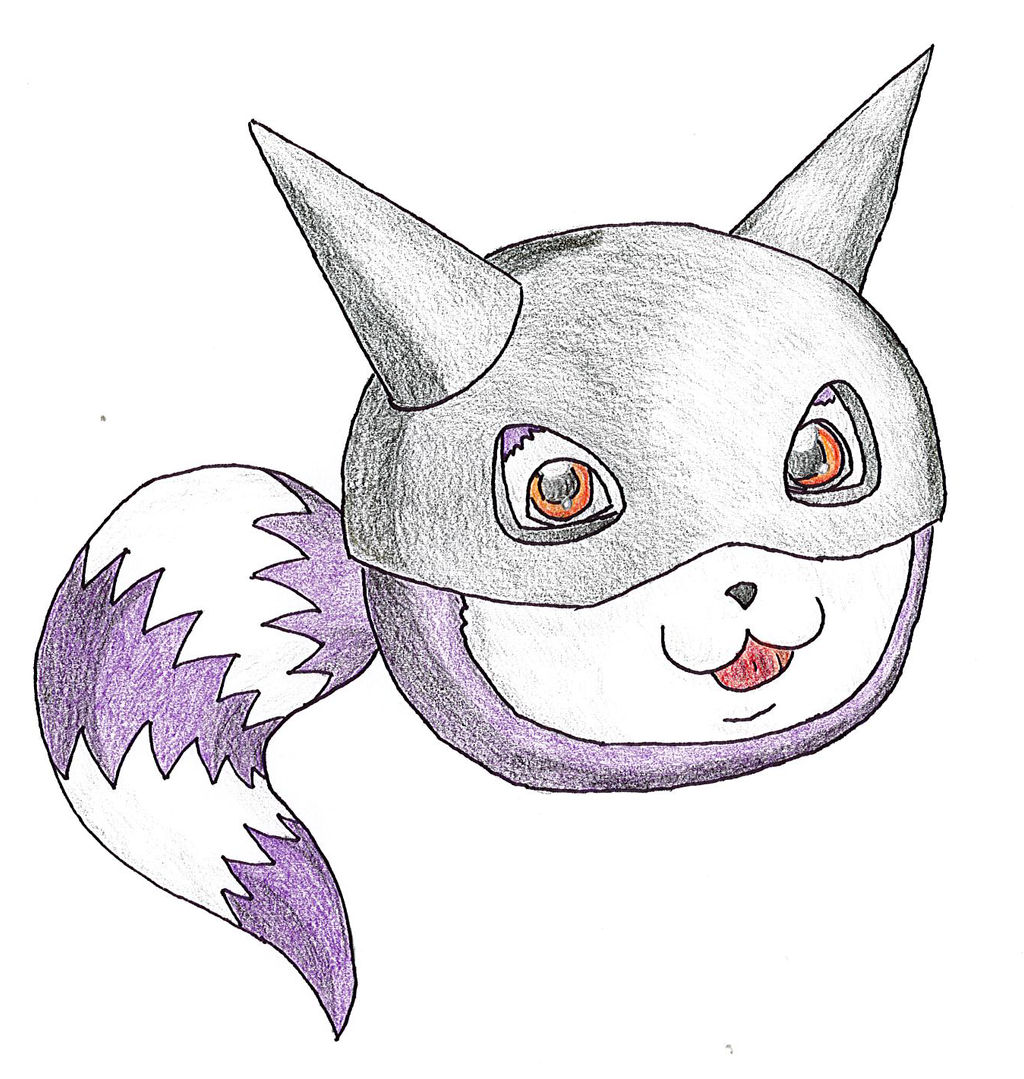 Attribute
: None/Free
Family/ies
: Metal Empire/Nightmare Soldiers
Type
: Lesser
Fighting Style
: His fighting style in this form is much like his earlier form. He tries to patalyze opponents to flee but if that is not an option he will start attacking. Using either headbutts or Acid Bubbles.
Abilities
:
Digivolves From
: MetalKoromon
Digivolves To
: Kotemon
---
RookieSpecies
: Kotemon
Appearance
: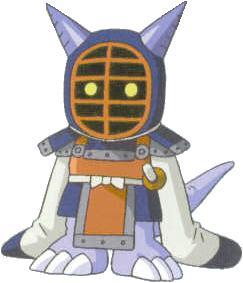 Attribute
: Data
Family/ies
: Nature Spirits/Dragon's Roar/Nightmare Soldier
Type
: Reptile
Fighting Style
: Kotemon fighting style is very defensive, using the bamboo sword it carried to parry attack. Only striking when he can find thee is an opening to take.
Abilities
:
Hothead - Kotemon covered a part of himself in fire or his bamboo sword, quickly striking the opponent for a quick burst of damage.
Deflect - A simple defensive move in which Kotemon will attempt to use his Bamboo sword to try to deflect off a single attack. 2 Turn Cooldown.
Lightning Arrow - Probably the most useful technique known by Kotemon. He slashes the opponent with hsi bamboo sword covered with electricity, quickly piercing most defenses by shocking his opponent with a wave of lightning. Does burst out a few meters in front of no target and is struck by the sword. Technique double as both a piercing attack and a ranged attack. 2 Turn Cooldown
Thunder Gauntlets - The most powerful technique Kotemon knows. He drops his bamboo training sword or throws it up into the air. Coating both of his fists in electricity as he moves to punch his opponent. Slamming both of his fists into his enemy's side hopefully, causing electricity to flow from one gauntlet to another causing a powerful shock. Has a 2 turn cooldown.
Digivolves From
: Kapurimon
Digivolves To
: Gladimon