Post by ollieandprocopius on Mar 26, 2022 13:57:09 GMT
Name
: Oliver Niamh Reynolds
Alias
: The Digital Anthropologist
Age
: 14
Gender
: Male
Height
: 4'10"
Weight
: 100 lbs
Alignment
: Neutral Good. While Oliver's main drive is the collection of knowledge and understanding, he pursues that goal in the attempt of making the world a better, more understanding and empathetic place. As someone who was often bullied, he very rarely will stand idly by when he sees injustice in progress
Birth Date
: March 20th, 2007 (Found date, birthdate unknown)
Western Horoscope
: Pisces
Birth Place
: Unknown, Japan?
Skills/Talents
: Oliver's understanding of anthropological, geographical and historical subjects is far beyond the normal knowledge of someone his age. Indeed it's far beyond the knowledge in those subjects of most people twice or three times his age. His ability to rattle off the names and deeds of ancient kings, the cultural significance of a certain symbol or to identify the artifacts of an ancient human civilization on sight can often make him seem more like a computer than a human being, or like he's somehow hooked his glasses up to Wikipedia and is just reading the information off as he goes if not for the fact he doesn't even need to pause long enough to look something up. Such is his ability to pull the information he's passionate about out of thin air and simply share it off the cuff. There's always some thick and dusty tome of history or science on his person and he never gives up the chance to look through some interesting new subject on a whim.
He's a voracious learner, able to consume and recall new information even outside of his chosen field at an absurd level. While the long term containment of these new ideas is a different question, in the short term he's able to hold onto new information like fly paper and pull it out at a moment's notice. His attentiveness when either reading or listening to new information is unquestioned and unbreakable. When he has been promised new information his attention and
focus
are trained directly upon whatever he is reading or whoever is speaking almost to the point of becoming uncomfortable at times as he stares, softly scribbling his notes, at a person telling a story or sharing a fact.
Oliver is also a polyglot. Able to speak English and Japanese as one would expect but also Italian, French, German, Latin and Cantonese with a basic if not fluent understanding of Russian,
Portuguese
and Spanish. He has a small pool of understanding in at least a dozen other languages but would quickly become lost in actual conversation.
His most minor talent that has been noted is his
calligraphy
, or handwriting. It has been noted that his ability to write is very neat to an almost beautiful degree, putting down his thoughts or discovered information in a form that almost looks professionally printed at a glance.
Backpack Contents
: Oliver's backpack is the most noticeable detail about him most of the time, considering the fact that it's more often than not the first thing that people see before they even notice the boy underneath it's weight. it is a massive brown leather rucksack that was handed down to him by his grandfather with two golden clasps holding the straps for the main flap. Though not nearly tight enough to contain the sheer mass of the things he's carrying. It's overinflated enough that the weight of it bends and bulges over the top of his head slightly where he is wearing it close to his body. It is covered in scratches, pock marks and other signs of age and use around every pocket, strap and buckle. There is not a single inch of the sack that isn't being used at any given moment.
The largest central contents that all other things carried are in service too is a massive, blank journal. Bound in leather with hand made decorations of golden ribbon and other interesting things Ollie has seen fit to add, the massive tome is rapidly filling with the tales and the knowledge that he is gleaning from every inch of the Digital World that he's yet found. The book
is
eclectic
for the moment, endless tabs and notecards sticking out of its pages and with topics and details written in mostly random order. It holds philosophical musings on the nature of
Yggdrasil
, scientific
examination
of entire landscapes alongside personal anecdotes from individual digimon and sketches of the smallest blades of grass. Beyond that the rucksack contains...
Several dozen pencils, pens, highlighters and any other writing implement in several different colors and kinds. Each of which has an organized purpose and use within the tome that is being written.
A case containing a spare set of glasses usually tucked safely in a secondary pocket to avoid being crushed and cracked by the tome and the writing utensils
A large reusable water bottle and a colorful lunchbox hanging from one of the straps by a thick keychain that allows for the carrying of food and water on long expeditions into the less hospitable parts of the digital world.
Ollie stores his Digivice in a netted pocket do one side of his rucksack that allows him to easily retrieve it should it ever be required.
Ollie usually keeps at least one "extra" pen on his person. Tucked into the belt loops of his pants of rolled into the front of his sleeve along with a lined note pad in his back pocket. He is never without the ability to write and record.
Digivice
: Ollie's Digivice is a standard D-3 but with a leather brown color and some of the same texture in place of the regular light rubber of a normal Digivice. A collapsible, telescopic keychain pen dangles from the charm loop on the device, giving him one more way to always have a note taking method on hand even when without his normal layers of redundancy in that department. Ollie is especially fond of the scanning feature that the digivice comes with, allowing him to instantly get a jump starts of information on a digimon in front of him in the physical sense. Granting details that instantly go into his pool of knowledge.
Ollie's D-Terminal is used as a back up for all of his information. Holding scans and transcripts of everything that he's found and recorded along with pictures, recordings and anything else that he finds worthwhile (which is nearly everything) that can't be carried with him in the physical tome itself. It serves as a direct archive of every note and discovery he's ever made in the event that the tome itself is lost due to the unpredictable nature of the digital world.
Personality
: Oliver is an exceptionally soft spoken and nonconfrontational person, he doesn't like to argue or disagree with others and is always desperately seeking approval and to be a part of the conversation. His personal history has left him with a deep and unhealthy craving for positive attention, approval and any sense of belonging that he can possibly find. he will bend over backward to make other people happy even when he's making himself miserable simply so that he might receive a moment of praise or even a half hearted acknowledgement from the people around him. He wants so badly to be part of a group or even to just feel valued to the people around him that he'll charge headfirst into bad faith situations without a thought.
Ollie has a true and uncomplicated desire for knowledge, possibly the only thing that can overpower his need for
social
acceptance. He wants to know and to understand as much about the world around him as possible and is always taking the time to learn new things or to look at knowledge in a new way. This makes him an exceptional listener because he is often fully engaged in the things that people say even when that information would seem mundane or unimportant to others. He
genuinely
believes that the only thing holding people back from peace and empathy is a lack of information and understanding about one another. He abhors ignorance in all of its forms and will often become driven to prove someone's bad faith ideas wrong in as public a forum as possible simply because of their spreading ignorance for their own gain being an affront to his own ideals and what he views as the greater public good.
Ollie is a perfectly kind sort of person, willing to go out of his way to help others in trouble or to insert himself into problems that don't necessarily require him not only because of his desire to understand the context of the conflict but also to use his knowledge to help the people effected. He has a problem standing up to bullies or strongmen, especially physically but has no problem deconstructing and destroying ignorant or harmful ideas in front of a crowd which will often do more good than simply beating up the dictator or gangster in question.
He maintains an emotional frailty because of his own terrible sense of self worth. His abandonment by his parents and
ostracization by his peers have left him with the understanding that there is something fundamentally wrong or worthless about him which is why he strives so desperately to prove that he's exceptional. His fear of not living up to his own and others' savant expectations of him would be proving that his own fears about himself were right all along. He doesn't understand that he doesn't need to prove that he deserves to be loved, appreciated and protected or that his worth as a human being isn't tied to any of the things that he can do or any of the things that he knows. He often suffers from a deep imposter syndrome, afraid that he's just faking his own intelligence or that he's lying to himself about every small moment of happiness and comfort that he's earned. That someday everyone will realize he's a "fraud" and toss him aside.

Oliver most likely has one or several undiagnosed anxiety or depressive disorders that require actual professional mental help in order to address and mitigate which will be an eventual goal for the people around him or for himself when his unhealthy pattern of behavior and thought is fully recognized.
Appearance
: Oliver's most noticeable feature is his stature. He is only Four feet and ten inches tall with no real growth spirt in sight having already reached his full adult height. Most people tower over him and most adult digimon even more so. His body type is a mousy, nerdy kind of stock with thin limbs and narrow shoulders. He seems even shorter with his shy, half hunched posture save for when his passions have been ignited and he is inspired to pop back to his full height.
Oliver's face is rounded with soft, smooth cheeks and bright, glittering brown eyes that only seem brighter beneath the magnifying shine of his thick and heavy, dark amber framed glasses. The glasses frames are very square with rounded corners that make his eyes seem impossibly huge and expressive behind the magnification of the lenses. His gaze is very striking from behind the lenses as they make his eyes seem even bigger than they already are.
He has short,
tossed
brown hair that is always neatly tucked back behind his ears. He takes very little time to take care of his hair and has been getting the same haircut since he was a child. The hair is sometimes decorated with a pen tucked behind one of his ears just in case the dozen or more writing utensils he already travels with aren't enough.
Oliver's propensity is for modest, even dorky clothing. He wears drab colored button up shirts with a pen or
notepad
tucked into the front pocket. His pants are always khakis with an absurd number of pockets to carry anything that he might want to take with him or study at a later date. He wears high, rolled socks tucked nearly into his pantlegs and thick soled boots that allow him to go wandering off the beaten path at his own leisure.
Oliver is more recognizable for the way he wears his backpack than any actual physical trait. His overstuffed rucksack is almost taller and heavier than the boy himself and often falling over the top of his head, laying part of it's overstuffed top across his scalp. From behind he looks more like a massive, walking backpack than a human being and the sheer size of the carrying implement can be seen around the edges of his shape even from the front. The straps have worn themselves into marks on the shoulders of nearly
every
shirt the boy owns, to the point where you can see where the backpack would rest on him even when he's not wearing it.
Ollie has a scar on the back of his neck, just underneath and slightly behind his right ear. The scar is
noticeable
to others but usually forgotten by Ollie himself. The fact that he gained this scar from his birth parents is one of the secrets that the people taking care of him have chosen not to tell him until he's old enough to handle the shock. He will sometimes itch the scar when considering a problem or placing data together in his head in an attempt to solve a problem or place odd information into its surrounding context.
Personal History
: Oliver Reynolds was born to two parents who were the lowest of the low, in the social, economic and moral senses. Illegal immigrants to Japan and without a single ounce of care either for one another or for the child that they had brought into this world Oliver was abandoned, crying, in the middle of a shopping area just before the opening of shops one day. The reason for his parents abandonment, their current whereabouts or even whether they're alive or dead is totally unknown. With nowhere to send him back to and no available citizenship other than the citizenship that he could be granted by being put into the Japanese foster system the government of Japan was left with no choice but to treat this young Caucasian as if he was born to Japanese parents just for the sake of having something to do with him.
Always an exceptionally small and softly spoken child, Oliver has been the target of hate and bullying both within his
orphanage
and without at school or in social situations. It was at a very young age when Oliver began to turn to books and the collection of knowledge and academic acclaim to escape from his feeling inadequacy and
loneliness
. When he
received
an award for outstanding academic achievement or got praise from his teachers about how well he had performed it was the only time in his life where he felt like the people around him were paying attention to and cared for him. This also lead to the development of his true love of learning. Even outside of the social release that it offered him, learning about new things and understanding things in new ways allowed him to disconnect from the often
disappointing
reality around him. Instead of floundering in his bunk room with fifteen other children, none of whom wanted anything to do with him, he could be in Madagascar learning about
thorn
forests, listening to a speech by Mahatma Gandhi in 1945 or travel with astronauts to the surface of the moon. Learning not only made a confusing as scary world make sense but it also made him feel like he wasn't always going to be so alone. If he could push higher, learn things that no person had ever learned before than people would know him and care about him.
---
Digimon Name
: Procopius
Default Form
: Rookie
Gender
: Male
Alignment
: Chaotic Neutral, Tends Good. Procopius grew up on the streets of Terminal with only one drive in his head. Survive. He surrounded himself with other street urchin digimon and did plenty of his share of begging, borrowing and stealing, lots of stealing. He's seen the harsher sides of the world and is more than willing to meet them head on with some harshness of his own. That being said, he's not heartless. Despite how his threats may make him seem he's never actually permanently hurt someone and he's done more than his fair share of quietly good deeds to quiet his own conscience. His newfound attachment to the innocent and enthusiastic Ollie has started a real change in him, even if he'd never admit it out loud.
Skills/Talents
: Procopius is a fighter, with some proficiency in untrained street fighting techniques making him more than just some thug throwing his weight around. He knows how to actually go into a fight with the intention of winning, not just swinging blindly until either he or the opponent falls down. He's a dirty fighter, certainly, going for weak spots or dishonorable tactics making him much more dangerous than he seems even up against a trained martial opponent.
Procopius still has friends in the darker and grittier parts of the Digital World, especially in the hidden alleys and forgotten passages of Terminal. Gathering secret information or finding ways into places that should be off limits is an old talent that hasn't rusted since his bonding with Ollie.
Procopius
has a hidden talent for logistics and leadership. Having run a small gang supported by a small, poor neighborhood for most of his adult life he knows how to get things to the people that need them, even when those things are in short supply or supposed to be
unavailable
to the people he's getting them for. Finding a way to get some medicine to "fall off the back of a truck" that can be used to help and old digimon who gave his gang shelter and food is something he's had to do more than once and it's always gone off quicker and smoother than anyone could expect.
The opposite of a talent that he has is his literary skill and reading comprehension.
Receiving no formalized education at all, Procopius' reading and writing abilities stretch only so far as he was able to pick up while living on the streets of Terminal. He's able to sign his own name and read basic information or instructions off of a sheet of paper placed in front of him and he has a surprising knack for numbers which ties back into his logistical talents but as far as actually diving into large amounts of written information or writing at anything above an early grade school level, these things are totally beyond him. This is changing, of course, with his partnership to Ollie who is taking a lot of time to teach him about the true joys of reading and writing even if it's slow going thus far Procopius' skill is advancing much more quickly than the cynical digimon would admit, having long ago given up on the skill.

Inventory:
Procopius only carries one thing around with him at all times: a black handled, grey inlaid fountain pen kept in a clamped case that he stores in a small pen case slung around his shoulder. It was a gift from Ollie upon their first meeting, a prized possession of the young academic that he was given as the prize for winning an essay writing competition at an early age. Procopius had never been granted something like that, no string attached, especially because of how much it obviously meant to the young man who had become his partner. Procopius made a silent vow to always keep the pen safe and close at hand. He has also been using it in his lessons on reading and writing, improving his penmanship and his comprehension of words with the gift that he has been given by his unlikely companion.
Anybody asking about the pen, if in the context of someone who used to think he was "tough" or who is trying to get his goat about being so attached to something given to him by the tiny human is apt to start a fight, especially if the pen is taken or threatened in a teasing or bullying fashion. The ink that the pen uses is ever so slightly darker than the shade of black that Ollie uses for most of his note taking and sketching, so someone in the know can easily tell at a glance which parts of the notes the pair takes are done by Procopius in an attempt to improve his ability or just
transcribing
as Ollie talks out loud, even if Ollie doesn't know that Procopius is recording his ramblings in such a way for posterity, wanting Ollie's story to be told just as much as the stories of the Digital world they're sharing
Holosuit: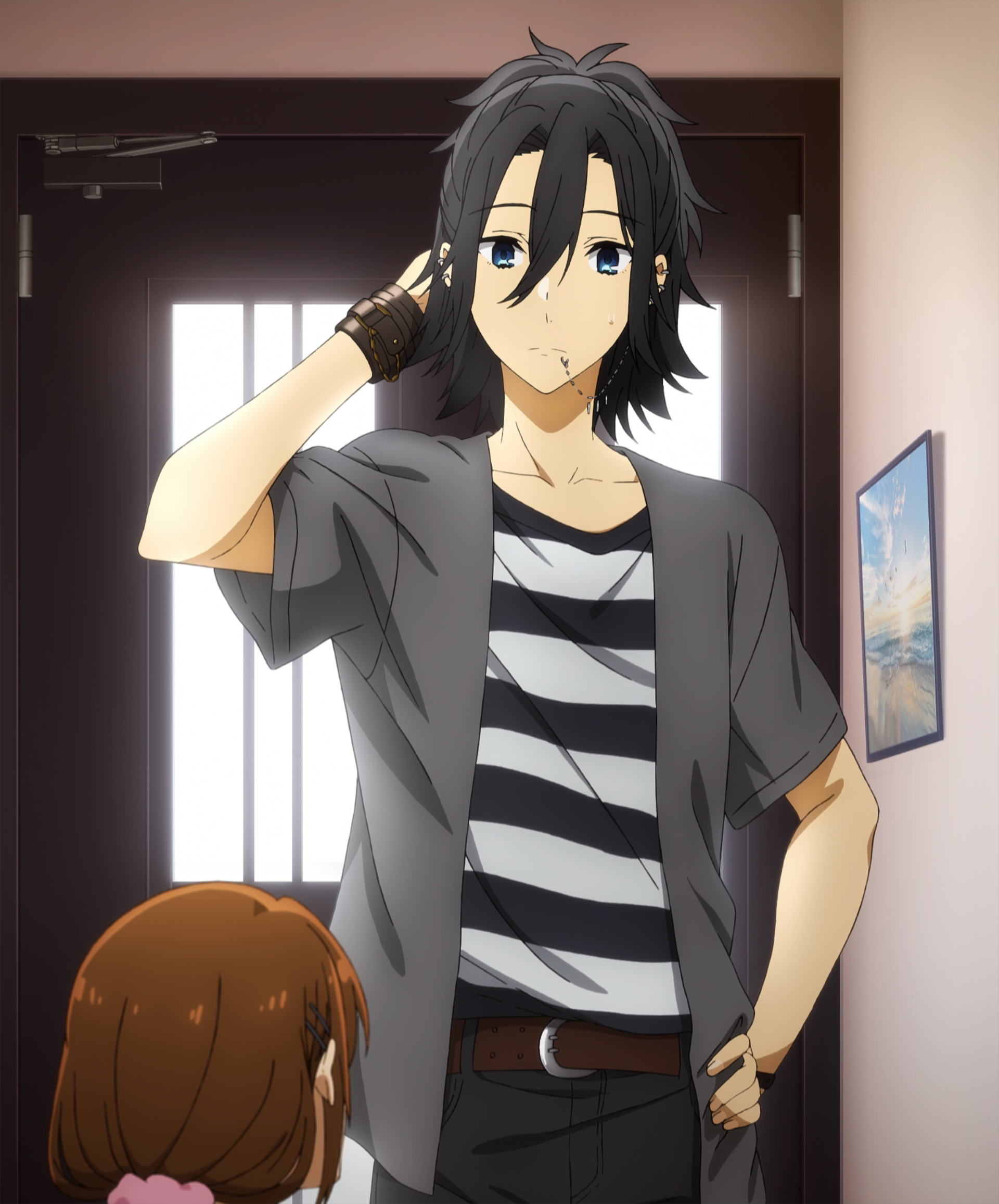 Horimiya •
Izumi Miyamura •
Procopius
Personality
: Procopius is gruff to say the least. He's lived a hard life having to fight and scrape and scrounge for everything he ever owned. He had to constantly fight in order to stay safe and unchallenged in his role as the leader of a miniscule gang that was barely able to feed itself and meek out a tiny territory making him protective of everything he has and mistrusting at the onset of every relationship with the expectation that nobody hangs around anybody else without wanting something out of them.
This has changed somewhat in relation to Ollie. Seeing someone so openly accepting of him, so eagerly passionate about a project that even Procopius cannot argue is anything less than a grand public good has made him protective of Ollie, not only because of his morality tugging him in the direction of doing the right thing for an innocent and easily picked on soul but also because of his idea that Ollie's welcoming and enthusiasm will either get his heart broken at best or get the young man killed at worst.
Personal History
: Procopius was born at some point, which is really the best he can do. He never knew his parents though they could have been any number of digimon who lived in the forgotten alleys of Terminal he called home or digimon who had come to the forgotten place and moved on long before he would ever have known them. Whatever reason he was abandoned for he doesn't know and he's long since stopped caring enough to waste time thinking about it. Even from the very beginning of life he discovered that fighting and scrounging for every scrap he could get was the way of the world he was living in. Not to say that he was instantly and always violent, whether it came to begging with puppy dog eyes on the side of the street, working shady odd jobs for a few bucks or, yes, sometimes just clobbering the other guy for a cut of his supplies, Procopius (at the time totally unnamed) would do what it took to protect himself and stay one step ahead of starvation and the elements.
Eventually smaller, weaker Digimon in a similar situation would begin to flock around him from the surrounding small villages, the countryside but especially other street rats in the endless narrow alleyways and tunnels of the digital capital. Procopius became the head a nameless gang that would go from street to street in their small corner of Terminal, taking what they needed and fighting like alley cats over invisible lines of turf drawn in the blacktop and sidewalks beneath the city's gleaming towers. Procopius became and authority figure in his small, forgotten neighborhood. If you wanted something done, needed to get something that normally was off limits or just wanted to settle a score without getting your hands dirty, you approached Procopius, paid his price and waited for the job to get done. But a rat king can only stay unchallenged for so long.
Procopius doesn't know which one of his lackies did the deed, the lower ranked gangster did him in in his sleep so as to not risk a fair fight against the digimon who had proven time and again to be the strongest in the group. Procopius harbors something of a grudge against whoever did him in but can't find it in himself to take it personally. After all, it was always survival of the fittest.
DIGIMON'S INITIAL EVOLUTION LINE
---
FreshSpecies
: Kuramon
Appearance
: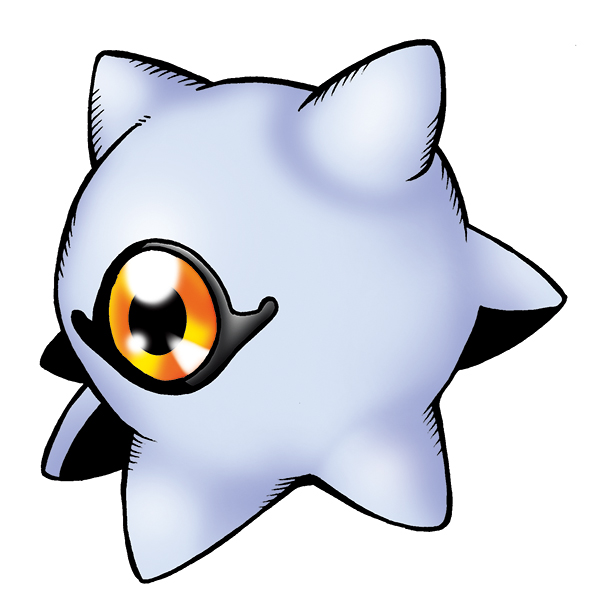 Attribute
: Unknown
Family/ies
: Unknown
Type
: Species Unknown
Fighting Style
: This is Procopius at his weakest and he's very rarely, if ever, stupid enough to try and pick a fight in this form especially considering the species' ability to levitate gives him much better options to AVOID a fight rather than diving in head first when he hasn't got any real weapons to defend himself.
Abilities
:
Glare Eye:
Kuramon creates a ball of light from its eye that it fires at an enemy. The ball of light is bright but totally immaterial, causing no damage or other actual effects. Only useful as a distraction to give Kuramon the time to run away. (0 Post Cooldown)
Digivolves To
: Tsumemon
---
In-TrainingSpecies
: Tsumemon
Appearance
: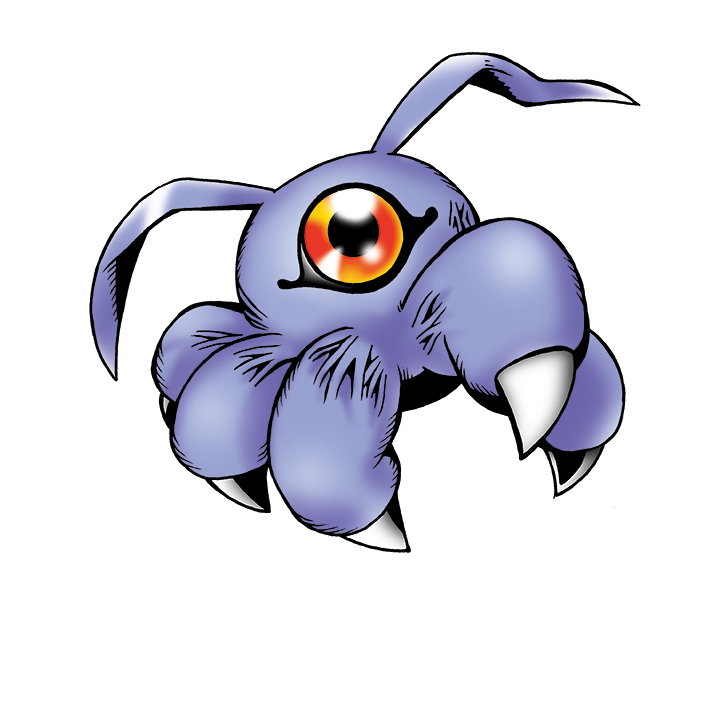 Attribute
: Unknown
Family/ies
: Unknown
Type
: Species Unknown
Fighting Style
: This form is still much too weak for Procopius' liking and he tries to avoid combat in this form if at all possible. If backed into a corner though the powerful and sharp nails of this little beast are more than capable of giving wounds for an enemy to think of, at least long enough to beat a hasty retreat.
Abilities
:
Bubbles:
Blinks hard to blow a soapy, acidic bubble into the face of the opponent. The bubble is fragile and easy to pop but should it land it will blind or otherwise distract the opponent for one post. (2 post cooldown)
Nail Scratch:
The basic attack of this form, Tsumemon latches itself onto it's target and dig in hard with that sharp black nails at the bottom of its body (0 post cooldown)
Digivolves From
: Kuramon
Digivolves To
: Toy Agumon (Black)
---
RookieSpecies
: Toy Agumon (Black)
Appearance
: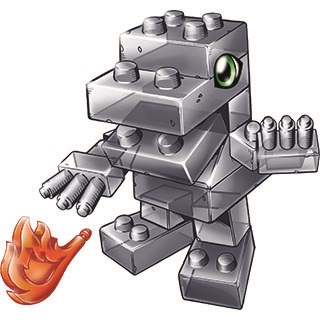 Attribute
: Virus
Family/ies
: Metal Empire
Type
: Puppet
Fighting Style
: Procopius' first form capable of doing any real damage, Toy Agumon (Black) is obviously more about defense and power than it is about speed. His blocky feet and limited range of motion gives him little ability to move anywhere or readjust himself quickly but the hard blocky exterior of his body gives him above average defense. Most often simply planting his feet and attacking whatever is in front of him until either it falls over or he does. Planting himself like a stone and swinging for the fences is the form's best strategy.
Abilities
:
Block Punch:
The most basic form of attack. Procopius waits for an opponent to come within range and then lashes out with a hard, sharp edged punch. (0 post cooldown)
Toy Flame:
A ranged attack, Procopius tilts his head back and fires a toy flame into the air to land on the enemy from slightly above, usually aiming for the head of his opponent. Has impressive range at near 25 yards but less than stellar accuracy in Procopius' hands due to his limited knowledge of math and geometry foiling his attempt at firing from a good angle (2 post cooldown)
Fancy Star:
Procopius fires a flurry of sharp edged plastic stars from his mouth in a short range but wide breadth burst, covering a one hundred and eighty degree field directly in front of him for about a six foot range. Like a shotgun blast this attack is situational but powerful attack. (2 post cooldown)
Machine Attack:
Procopius
opens wide and clamps his jaw down on anything is reach, most often the attacking limb or weapon of an opponent. The blocks of his upper and lower jaws snapping together to tether him to whatever he's holding onto, putting him at range to hopefully lay down a flurry of Block Punches in following moments. This is a grappling effect with no slow or other debuffs. (3 post cooldown)
Digivolves From
: Tsumemon
Digivolves To
: Raptordramon
---
ChampionSpecies
: Raptordramon
Appearance
: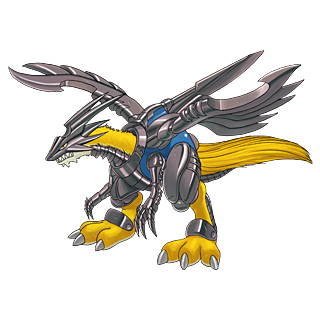 Attribute
: Vaccine
Family/ies
: Dragon's Roar, Metal Empire, Nature Spirits, Virus Busters
Type
: Cyborg
Fighting Style
: Raptordramon's fighting style is a continuation of the fighting style that became initially a necessity and then a strategy in Procopius' Toy Agumon (Black) form. Planting his feet in a good spot where he has a good line of sight on his opponent and opening up with as much fire power as possible from his stationary and hopefully defensible position. Although it has wings this digimon cannot fly, only using its wings for balance at a raptor-like sprint.
Abilities
:
Combat Passive: Feet Planted:
Procopius prefers to fight by picking one defensible spot of terrain or area of the fight and sticking to it, either firing off attack at a decent range or forcing opponents to come at him from one angle of attack. At the beginning of a fight Procopius is able to take one turn, pick one spot and plant himself there, closing his wings around the sides and back of his body to create a fifty percent increase in his defense to his sides and back while reducing his speed by fifty percent. It takes him two turns to fully unfurl from his position and return to his normal speed while losing his defensive buffs until he is able to find another spot to plant himself. (1 post activation time, 2 post deactivation time)
Dino Slash:
Lashes out with the powerful claws of it's metallic arms, slashing and clawing at anything that comes close enough with the wicked points and edges of it's hands. A basic, no frills attack that punishes opponents for getting too close (0 post cooldown)
Crash Charge:
Lowers down on it's haunches drive with a hard, spear like thrust, head lowered to drive the point of its snout into the armor, wall or shield of its opponent with all of the might of its body. This is a piercing effect. (2 post cooldown)
Ambush Crunch:
Throws it's head back before slamming it down with it's mouth of gleaming metallic teeth open and ready to clamp down on the first thing it can grab hold of, tugging against any attempt to move the limb or weapon away from itself. Immobilizes the target limb/weapon and limits opponent's movement away from itself four 2 posts. (2 post effect, 3 post cooldown)
Amber Blast
: Fires a beam of powerful, fiery energy from it's mouth. It's main attack at range that can hit opponents at a couple dozen yards when in motion and about double that when fully planted with the ability to take good aim. Has a twenty four yard range when fully unfurled and a forty eight foot range when planted (2 post cooldown)
Teeth Grinder:
Begins to grind the metallic parts of its body against itself, creating a loud cacophony of screeching, squealing sound like metal nails running down a massive chalkboard. Creates a confusion and light pain effect in an area around itself where the sound would be audible lasting for two posts. (2 post effect, 3 post cooldown)
Digivolves From
: Toy Agumon (Black)
Digivolves To
: Grademon
---
UltimateSpecies
: Grademon
Appearance
:
Attribute
: Vaccine
Family/ies
: Nature Spirits, Metal Empire
Type
: Warrior
Fighting Style
: Just like his Raptordramon form before him, Grademon focuses on controlling and monopolizing space on the battlefield. Cutting off enemy motion and angles of attack so they must come at him from an angle he's prepared to defend. A wall between the enemy and those he wishes to protect Grademon is not going to give an inch of ground while he's still alive to defend it and with a long weapon and plenty of ranged firepower to keep his enemy from slipping under his guard, approaching this wall of armor and digital muscle is a tall order for most villainous opponents especially with such large and wicked claws that have the ability to anchor his weight to the floor moving him out of the spot he chose is out of the question for most opponents. He must be tactical and judicious with his use of this ability though, as his speed and maneuverability is cut almost to zero when he chooses his spot to defend. Moving his enemy into choke points or angles where there is limited ways to get over or past him is imperative in bringing his full power to bear, though any digimon that assumed leaping over him or shooting under him will be a done deal have another thing coming when a few of his options quickly shoot out to catch them off guard.
Abilities
:
Combat Passive: Citadel: Grademon chooses a stretch of ground to defend, sketching a deep circle into the ground with the tips of his blades and curling his long golden claws into the surface beneath his feet. Planting his weight and facing himself toward his opponent drawing a literal line in the sand that his opponent is going to have to remove him from if they want any hope of getting past him. It roots him to the spot but makes his control of the space around him dangerously complete when it comes to the speed, defense and power of his attacks. It takes him some time to unfurl from his position should he need to reposition so careful consideration of his chosen spot is imperative for using this technique well. (1 post activation, 2 post deactivation. -100% movement speed, +25% attack speed, +25% defense,)
Cross Blade: Grademon lashes out with a crosswise attack using both blades, creating a wide arc in front of him to attack the opponent. The attack snaps out quickly especially when used in his defensive position and is one of the attacks that Grademon is most often to use to punish opponents who seek to enter the space he's defending or move past him to either side (0 Post Cooldown)
Grade Slash: Grademon slashes with one sword from bottom to top and one from top to bottom, creating a wide vertical arc that can hit any opponent at close range multiple times in success and cut deep gashes into unprepared enemies. This attack is most often used when an opponent tries to confront him in close quarters, attempting to physical defeat or move him from his spot (0 Post Cooldown)
Golden Gate: Sparks of potent static electricity bounce from one of the heavy golden horns atop Procopius' shoulders to the other, building over the course of only a couple of seconds before shooting straight upward until stopped by a wall or other barrier. This attack does damage and downs a flying opponent, used as a tool to keep opponents from flying over Procopius after setting his Citadel (Downs Flying Opponents for 2 posts. 3 post cooldown)

Cape Return: Procopius' long azure cape shoots out behind him, wrapping around his opponent and bringing them out in front of him, slamming them down directly in the range of his sword attacks as they attempt to untangle themselves from the blue cloth. (Moves the target from anywhere behind Procopius in a ten yard range into melee range at the front of him. 1 post slowed by 25%, 3 post cooldown. Cannot use Iron Rampart when on cooldown)
Iron Rampart: Reaches his cape out around his ally, wrapping them up in its tough material loosely enough to not restrict their motion but to protect them from attacks for a limited period allowing others to attack while he holds his ground. (2 post effect +50% ally defense, 3 Post Cooldown. Cannot use Cape Return while on cooldown)

Butterfly Needle: Hefts one of his long, slender blades and pitches it sharply at an opponent, aiming to pierce their flesh and pin them in place. The bleeding and deep cut does painful damage over time while heavy cutting down on the enemy's ability to move. (3 post bleeding effect, enemy is pinned for 1 post. 4 post cooldown. Loses one blade, limiting the range of Cross Blade and Grade Slash until sword is retrieved after cooldown)

Digivolves From
: Raptordramon
Digivolves To
: Durandamon