Post by carrie on Sept 1, 2014 0:12:11 GMT
Name: Cathrine I. Welty
Alias: Carrie
Age: 17
Gender: Female
Height: 5 foot 7 inches
Weight: 130 pounds
Alignment: Neutral
Birth Date: August 23rd
Birth Place: Cardiff, Wales
Skills/Talents: A moderately smart teenage girl, she excels in the fields of Chemistry and Literature. She knows how to fish, but isn't that good a cook.
Artifacts:
Explorer's Lens
A lens used by explorers of the Dark Castle, lost to time in the Dark Area. Usable outside of combat, this lens filters out magic, allowing the user to see through illusions and visual tricks. Take care - this only works for the one looking through the lens, making it quite obvious that the room or item is being inspected with a closer eye.
Personality: Generally speaking, Carrie is incredibly shy. She does not like making new friends and prefers to deal with things by herself, with her close friends, or her family. The only exception to her shyness is when she is in her digivolved forms (and even then when they're past the S-Hybrid stage). Because of this, many make the mistake that she's stupid, while she, in fact, has a pretty decent GPA and a gift with chemistry. When she becomes Junomon, her insanity, like the actual Junomon before her, takes control and she becomes aggressive and will attack anything and everything. She is reluctant to attempt to spirit digivolve, even if her life depends on it, because of the fact she's convinced it will make her lose control of her schizophrenia. Initially, she believed the entire digital world was a delusion as well, leading her to try and abandon her medication. As a result she on a constant search for medication for more medicine due to the realization that this place is, indeed, as real as the hand in front of her face. Now she works on finding more medication and keeping the voices in her head from driving her to madness, as a result she is more often than not going to ignore you unless you attract her attention physically or visually. Also, her favorite food is canned meat, don't ask why, I'm not sure either, but she loves the stuff.
Appearance: A thin girl, Carrie does not exactly stick out in a crowd in any imaginable way. She has long, flowing, black hair that hangs past her chest. She doesn't have much in terms of beauty, never looking more than a standard English woman. She wears a standard school uniform; an olive colored vest and skirt, a white shirt underneath the vest with a small breast-pocket holding a few pieces of lint, and a normal set of dress shoes. On occasion, she wears a more standard attire of a white shirt, a black skirt, and normal blue shoes. She has deep green eyes and a small, pointed nose. She walks calmly and quietly, trying not to call attention to herself and her unusual problem. Her facial expression is usually calm and collected, keeping the stoic silence and internal thoughts company. A keen eye may notice that she often looks around for things, perhaps things that aren't even there, perhaps things to find and use, perhaps things to take, nobody really knows but her and the voices in her head.
Personal History: As a child her parents won the lottery, and moved to Japan to live the dream... only to realize moving to Japan was far more expensive than anticipated and they'd indeed need to return to work if they wanted to support a family. Despite the move at a young age she adapted moderately well, although it took a while and she didn't enjoy it as much as she was tolerant of it. An Idiophatic Schizophrenic, Carrie fell under this mental disease at the age of fourteen. Starting off rather minor, she ignored it until it grew into something she simply could not phase out. Eventually, after trying desperately to have her friends understand she wasn't faking it, she told her parents, who had her visit a psychiatrist to decipher how serious a problem it was. The treatment of medication and therapy did work mostly, she still has an occasional spell but for the most part she's still an effective member of society. She still has to go in for sessions about once a month, twice if it's a particularly bad episode, but those are rare. Outside of her mental history, she has a particularly standard personal life, as well as a moderately normal school life as well. Of course, these five new voices in her head that will be unaffected by her medication will be a bit more of a problem for her.
Backpack Contents:
Her medication
A change of clothes
Her assigned reading book: The Divine Comedy by Dante Alighieri
Digivice: A light green D-Scanner with shades of red surrounding the sides and screen as well as white buttons. She initially, jokingly, refers to it as her "Christmas device".
SPIRIT EVOLUTION LINE
Spirit Element: Metal (not the musical kind, but the more literal version)
Appearance:
S-Hybrid Spirit: Gotsumon
Attribute: Data
Families: Nature Spirits, Metal Empire, Nightmare Soldiers
Type: Rock
Attacks:
Angry Rock: Throws rocks at her opponent, not much more to say.
Hardest Punch: Punches the opponent, not bad if its fists weren't made of rocks
Earth Shaker: Shakes the ground around her violently, used usually to disorient opponents
Digivolves To: Darcmon
Appearance: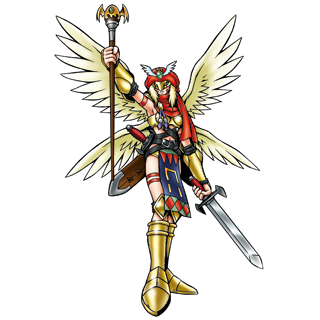 H-Hybrid Spirit: Darcmon
Attribute: Vaccine
Families: Wind Guardians, Virus Busters
Type: Angel
Attacks:
Dancing Sword; Attacks with her blade: "La Pucelle"
Staff Strike; exactly what it says. She attacks with her staff
Pucelle Punisher; She throws her sword at her opponent, sending a follow-up hit with her staff to either dig the blade in deeper or to attack her opponent's broken guard. Whether it hits or not it has one-post cool down to summon her blade once more
Flying Kick: She flies into the sky and attacks her opponent with her metal boots.
Digivolves To: Armormon
Appearance: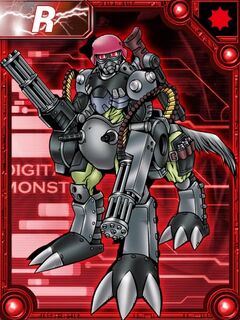 B-Hybrid Spirit: Armormon
Attribute: Virus
Family: Metal Empire
Type: Cyborg
Attacks:
Justice Strike: Fires as many weapons as it possibly can towards one opponent, has a two-post cooldown for any firearm related attacks due to reloading issues
Surprise Attack: Shoots at the center of its opponent's mass with the rifle attached to its back. Lethal at long range, troublesome in close-range
Weapon-Strike: Slaps their opponent, not terribly bad until you realize it has Gatling guns for arms.
Hot Potato: throws a grenade at its opponent. Don't ask how.
Digivolves To: Junomon (Hysteric Mode)
Appearance: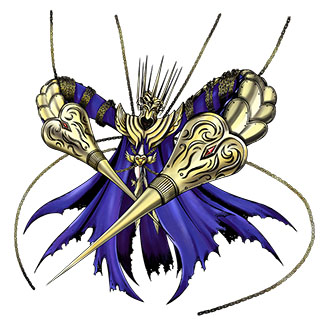 A-Hybrid Spirit: Junomon (Hysteric Mode)
Attribute: Virus
Family: N/A
Type: God Man
Attacks:
Lover's Lance: Stabs her opponent (or ally, there's no difference in her eyes) with hopes to impale
Madness Unchained: Strikes her target with the long, winding chains emanating from her body
Seething Strike: Smacks her opponent upside the head (or equivalent) with her metal lances
Despicable Desire: Flirts with her opponent, often with intents of confusing or distracting them
Digivolves To: QueenChessmon
Appearance:
Z-Hybrid Spirit: QueenChessmon
Attribute: Virus
Family/ies: Metal Empire
Type: Puppet
Attacks:
Heart Breaker; she takes one of her many swords and, as the name implies, thrusts it toward her opponent's vital organs, quite powerful, but if it's dodged she cannot use it again in the same battle
Heart Stamp; provides a rush of adrenaline to injured companions, allowing them to fight for one post longer than they would normally
Queen Stick; uses the lower part of her staff to stab her opponent, usually in the foot, hands, or head.
Grand Cricket; although not nearly as impressive as her other attacks, bludgeoning opponents with her staff is still a viable tactic to her