Post by Souta Nakano & Lewis on Dec 10, 2022 4:27:35 GMT
Name
: Souta Nakano
Age
: 14
Gender
: Male
Height
: 4'11" (150cm)
Weight
: 90lb (41kg)
Alignment
: Neutral Good
Birth Date
: September 7
Western Horoscope
: Virgo
Birth Place
: Numata, Gunma prefecture, Japan
Skills/Talents
:
- Music Mixer: Souta has something of a talent for appreciating and remixing music. While he is still young, he's got something of a hobby of modifying music to attempt to enhance and transform it. He tends to focus on video game soundtracks.
- Video Gamer: Souta has been an avid gamer since he was given a Nintendo DS for his 5th birthday. While not quite up to date with the latest games, he has kept up as best he could.
Backpack Contents
:
Digivice
: D-3 Model, colored Indigo and White
Personality
: Souta is something of a small-town teenager who moved to the big city of Tokyo. When his initial "country boy" persona failed to gain him much clout in junior high school, he became somewhat withdrawn, not wanting to embarrass himself by coming across as a country bumpkin with all of his city-born classmates.
While he was at first a little depressed about this, Souta is something of a pragmatic boy and sought his uses elsewhere. Used to having to do tasks himself without relying on all the facilities of the big city, Souta tends to just go out there and do things, whether it be grabbing the broom himself if he accidentally knocks something off the table and it smashes on the floor.
Souta also cares deeply about family. He knows that his parents tried to give him little brothers and sisters, but simply could not. He doesn't resent them for this, just accepts it as a part of life. As an indirect result of this, Souta is very close to his parents, being their only child, and is open to them in all his conflicts and issues.
In regards to his digimon partner, Souta sees Lewis as the little brother he never had, and at first is protective of him, but will eventually grow to respect the Gabumon in his own power.
Appearance
:
Souta is slightly smaller than average for a 14-year-old, only 150cm tall and weighing 41kg. He has long dusty-blond hair and blue eyes, and has a thin frame.
When not wearing his school uniform, Souta generally wears casual clothes featuring an open jacket and t-shirt underneath featuring the logo of a musical band that he's fond of, as well as jeans and sneakers. Also he often wears headphones. Either the large noise-cancelling kind when he's in private, or the small earbud kind when he's in public.
Souta also has vision difficulties, but he made the decision to wear contact lenses instead of glasses, and feels happy for that to be the case.
FaceClaim
:
AZURE STRIKER GUNVOLT
•
Merak
• Souta Nakano
Personal History
: Souta is the only child of Danuja and Aki Nakano. When he was born, the family was living in the small Gunma prefecture city of Numata, where his father worked as a plumber and his mother worked as a part time childcare worker.
Souta had an enjoyable childhood, being a kid from a regional area. He got along well with others in elementary school, never really one to create conflict. His biggest trials was when he was prescribed to wear glasses, and when the teasing got too much for him, he asked to wear contact lenses instead, and was glad when that went away.
In the last year of elementary school, his father Danuja was offered a new job centred in Tokyo that would put their family in a very lucrative position indeed, as an engineer in a chemical factory. This put the family at a conflict, however, because Danuja and Aki had been trying to have more children, but each time has resulted in painful failures. In the end, they decided it would be the right thing to do, so they would move to Tokyo to accept the position, and Aki would seek full-time work.
Souta thus began middle school in Shibuya, where at first he was overwhelmed, but his easy-going country personality along with his musical skills allowed him to fit in somewhat without trouble, but in a way he feels sad that he will not have a younger brother or sister like his parents promised.
---
Digimon Name
: Lewis
Default Form
: Rookie
Gender
: Male
Alignment
: Neutral Good
Skills/Talents
:
- Quick Learner: Lewis is quite talented at learning about the world around him. His particular interests lay in geography, history and music.
- Musician: Lewis loves making and appreciating music. He has a pleasant singing voice, so tends to stick to vocals rather than playing instruments, but he can play a few of them as long as he practices first.
- Gamer: Lewis enjoys gaming, although he leans more toward retro games for their simplicity and challenge.
Personality
:
Lewis is a son of Owen and Hikaru, and part of the royal family of Ys. Lewis has led something of a sheltered life behind the walls of Ys. Of course, when he was born and accepted into the family of Owen and Hikaru, he felt glad and happy. But, he simply didn't feel comfortable about going out into the great unknown by himself.
After spending a lot of time with his elder brothers Matty and Jimmy, as well as his younger nephew Vinny, Lewis developed something of an outgoing personality. With their encouragement, his confidence grew, and with their positive reinforcement, Lewis fully came out of his shell and felt ready to face the world.
Unfortunately, he did not know that he was destined to be a chosen digimon. After some moments of crisis and he found that he couldn't digivolve in response to them like his brothers could, he felt his confidence shrink a lot. However, once he comes to terms with the fact that he was destined to have a human partner, he would be enthusiastic to get along with them as best as he can. Once he meets Souta, he would be a friendly and warm digimon partner to him.
At the same time, Lewis has strong bonds to his digimon family as well. From his eldest brother Logan to his niece Omen, he loves them all and would want to be there for them whenever they need him.
DIGIMON'S INITIAL EVOLUTION LINE
---
FreshSpecies
: Punimon
Appearance
: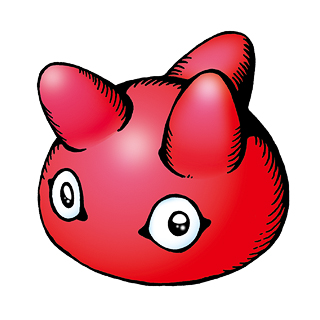 Attribute
: Free
Family
: None
Type
: Slime
Ability:Bubble Blow:
Spits out bubbles that cause mild irritation upon contact.
Digivolves To
: Tsunomon
---
In-TrainingSpecies
: Tsunomon
Appearance
: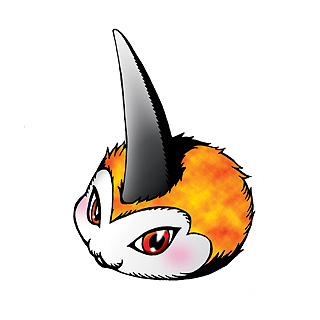 Attribute
: Free
Family
: Nature Spirits
Type
: Lesser
Abilities
:
Dry Ice:
Lewis spits ice-cold bubbles of liquid at an enemy that cause nasty cold damage upon contact. [Cooldown: 1 turn]
Horn Slice:
Lewis lunges at the enemy, aiming an attack with his horn. Causes basic damage.
Digivolves From
: Punimon
Digivolves To
: Gabumon
---
RookieSpecies
: Gabumon
Appearance
:
(Lewis also wears a backward red baseball cap, with his horn poking through the gap at the back).
Attribute
: Data
Family
: Nature Spirits
Type
: Reptile
Abilities
:
Combat Passive: Fur Coat
- Lewis's coat is made of strong defensive data. As long as he wears it, his overall defense is increased by 30%.
Blue Blaster:
Lewis inhales and then breathes out a stream of blue fire at a target. If it hits, it leaves a nasty burn that will continue to deal damage for 1 extra turn. [Cooldown: 1 turn].
Horn Attack:
Lewis charges at an enemy, headfirst, aiming to lance them with his horn. No extra effects, and no cooldowns.
Rousing Howl:
Lewis lets forth a magical howl that imbues his strength and speed by 30% for three turns. [Cooldown: 3 turns]
Digivolves From
: Tsunomon
Digivolves To
: Garurumon
---
ChampionSpecies
: Garurumon
Appearance
:
Attribute
: Data
Family
: Nature Spirits
Type
: Beast
Abilities
:
Combat Passive: Fur Coat
- Lewis's fur is made of strong defensive data. His overall defense is increased by 30%.
Combat Passive Ability: Beast Senses
- Lewis has an acute sense of smell and hearing. Outside of combat, he can track down items and people and sense danger when it's close. Inside combat, he can still fight effectively if he can't see the opponent.
Howling Blaster
- Lewis roars a torrent of blue fire at an enemy. If the attack hits, it will continue to cause further burning damage for 1 extra turn. [Cooldown: 1 turn].
Ice Wall
- Lewis conjures a wall of ice in front of himself or an ally. For 1 turn, this wall can block 3 Rookie attacks or 1 Champion attack. 1 Ultimate level attack can pierce through it, but reduce damage by 50%. [Cooldown: 2 turns]
Frozen Slash
- Lewis strikes at the foe with his claws, which glow with ice energy. Basic ice damage, no cooldown.
Eerie Howl
- Lewis raises his head and lets out a terrible howl. All opponents at the Champion level and lower that hear it have their data disrupted so that they may not use a named attack for 1 turn. [Cooldown: 4 turns]
Digivolves From
: Gabumon
Digivolves To
: WereGarurumon