Post by Silver Astreus on Jan 4, 2023 2:44:31 GMT
Name
: Silver Astreus
Alias
: Razor (Digital World)
Age
: 18
Gender
: Male
Height
: 5'10"
Weight
: 149 lbs.
Alignment
: Lawful Neutral
Birth Date
: March 31st
Western Horoscope
: Aries
Birth Place
: Okinawa, Japan
Skills/Talents
:
Wisened Worldly Traveler
Silver has spent much of his life traveling the world. As he grew up he grew with the streets he roamed, and traveleing often meant he traveled down many paths. With such experience Silver grew wise, learning the different types of people and circumstances that arise in life. These experiences have made him understanding of the workings of life, and he patiently lives his life with the world at his doorstep. Silver is comfortable with people, and calm under pressure.
Adept Martial Artist
When Silver was five years old his mother and father enrolled him in martial arts classes. As the years went by Silver became adept at controlling his body in high impact situations, and has several accolades in various martial arts like tae kwon do, shotokan karate, aikido, judo, archery, swordsmanship and others.
Prodigal Intelligence

Silver is a very smart young man and knows how to fluently speak in several languages including English, Japanese, Mandarin, Korean, French, Italian, Spanish, and Portuguese. He is very intelligent in philosophical matters, though he keeps to himself usually. Silver has a bright mind.
Backpack Contents
:
Digivice
: Silver's digivice is a silver D-Tector with a black ring around the crystal clear screen. The digivice has rubber holding guards around the edges, a deep red rubber attached to the shiny silver D-Tector.
Personality
:
Silver is a calm, patient and caring individual. Meticulous in his habits of waiting and watching, Silver cooly enters the scene to enact the righteous will of justice as a hero of the light. Liberally absorbing knowledge at the most subtle of levels, Silver is quiet and watchful around others. Down right dedicated to detail however, Silver is thoughtful and a dedicated friend. Filled with valor and self righteousness Silver sees himself as the hero and goes out of his way to help others.
Believing in virtue and honor Silver goes out of his way to be a righteous arm of the law. At his core Silver believes himself to be a hero and goes to whatever lengths he must to right the wrongs he finds.
At home Silver is a free thinker who believes in a deterministic view of reality. He sees life as the product of forces around him, and goes out of his way to make these forces rightful for development of human life. Silver is an activist and stands up for what he believes is right. Growing up in a military household Silver is conservative in ideals and passionate of his rights as a human. As an American citizen Silver is patriotic and proud of where he comes from. Silver has learned to keep these freedoms private, but they do influence him in how he acts with others.
Appearance
: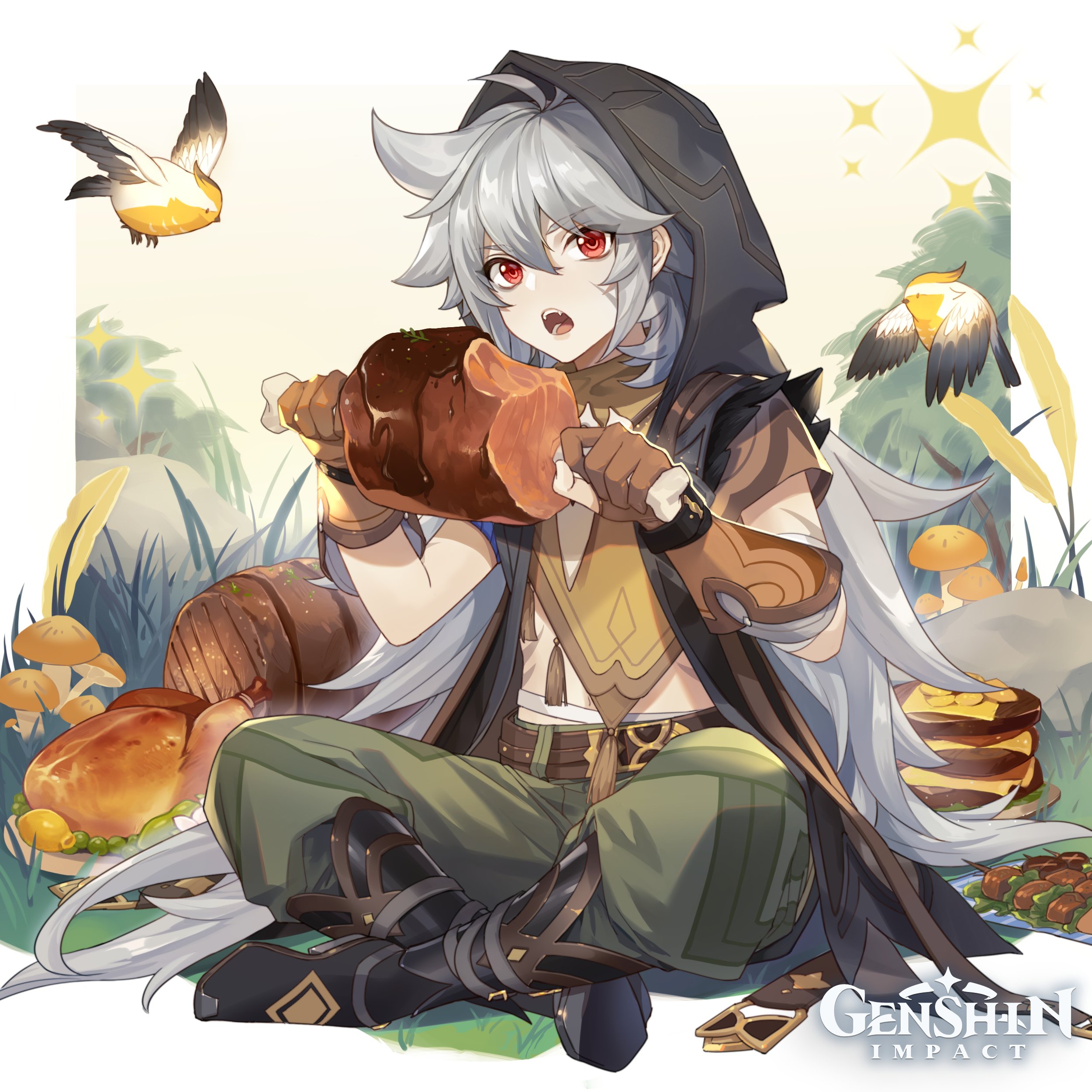 Silver stands strong and tall, with broad shoulders and thick muscles. He has bright red iris', and big sharp teeth with which to bite with. Silver has fair skin, and looks noticeably caucasian. His hair is oddly silver and the young mans hair goes down to his waist. Typically it's tied back in braids however.
Silver wears a thick leather cloak, that is rainproof with a wide hood. He typically wears some sort of tunic underneath, and keeps leather gloves on his hands. For pants Silver wears baggy green slacks, tied at his waist with a thick leather belt. On his feet Silver wears athletic boots.
FaceClaim
:
Genshin Impact
•
Razor
• Silver Astreus
Personal History
:
Silver was born in Okinawa, Japan. Anita, his mother, and her husband Jack were happy to bring forth a baby boy into the world. Naming him after the metal their marriage rings were made of, Silver was born. The child was the light of his parents life, and March Thirty First would be marked down as the greatest day in both of their lives.
Growing up Silver was an intelligent baby, potty trained by two years old and speaking full sentences by three. He was gifted with intelligence and watching the baby grow were burning memories for his parents to remember for years to come.
As the years went on Silver grew older and started school. Around this time Silver was noted for being particularly athletic and active, so his father enrolled Silver into martial arts. Silver was a happy child, quiet and unassuming. The boy was loved by many, and none dwelled on the boys peaceful appearance.
While growing up Silver was moved around a lot by his military mother. Never keeping friends Silver became somewhat of a loner and he didn't seem to mind. Silver was the type of boy who was happy to play in his own thoughts, and the single child thrived as such. Eventually his mother retired from her worldly travel and the family settled in a small condominium in Central Shibuya of Japan.
By the age of eighteen Silver had been in Central shibuya for about a year. The enigmatic child had made few friends, but was known in school to be smart and athletic. He spent a lot of time by himself, exploring Shibuya; so few people got to know much about Silver. It was known he could speak in many languages thanks to moving around so much, and he was heralded as a prodigy student in his school by both teachers and students. The silver haired American seemed aloof however, as if he didn't seem to notice how well he did in everything.
Silver just had more important matters on his mind. Silver wondered the deep thoughts always, contemplating what was right and wrong, or how he would act in the face of such mettle. Destiny was preparing the young man for his life in the Digital World, and that year he would take all of his pondered thoughts and make action out of them.
Unknown to Silver there was a mysterious light calling to him from another world. His spirit was growing fast that last year of school, swelling with potential for the arduous task he had ahead of him. Once day Silver would take his computer to the library like he always did to study mathematics, and his life would indubitably change for the greater good of the Digital World.
SPIRIT USER'S INITIAL EVOLUTION LINE
Spirit Element:
Light
---
Sprite SpiritSpecies
: Strabimon
Appearance
: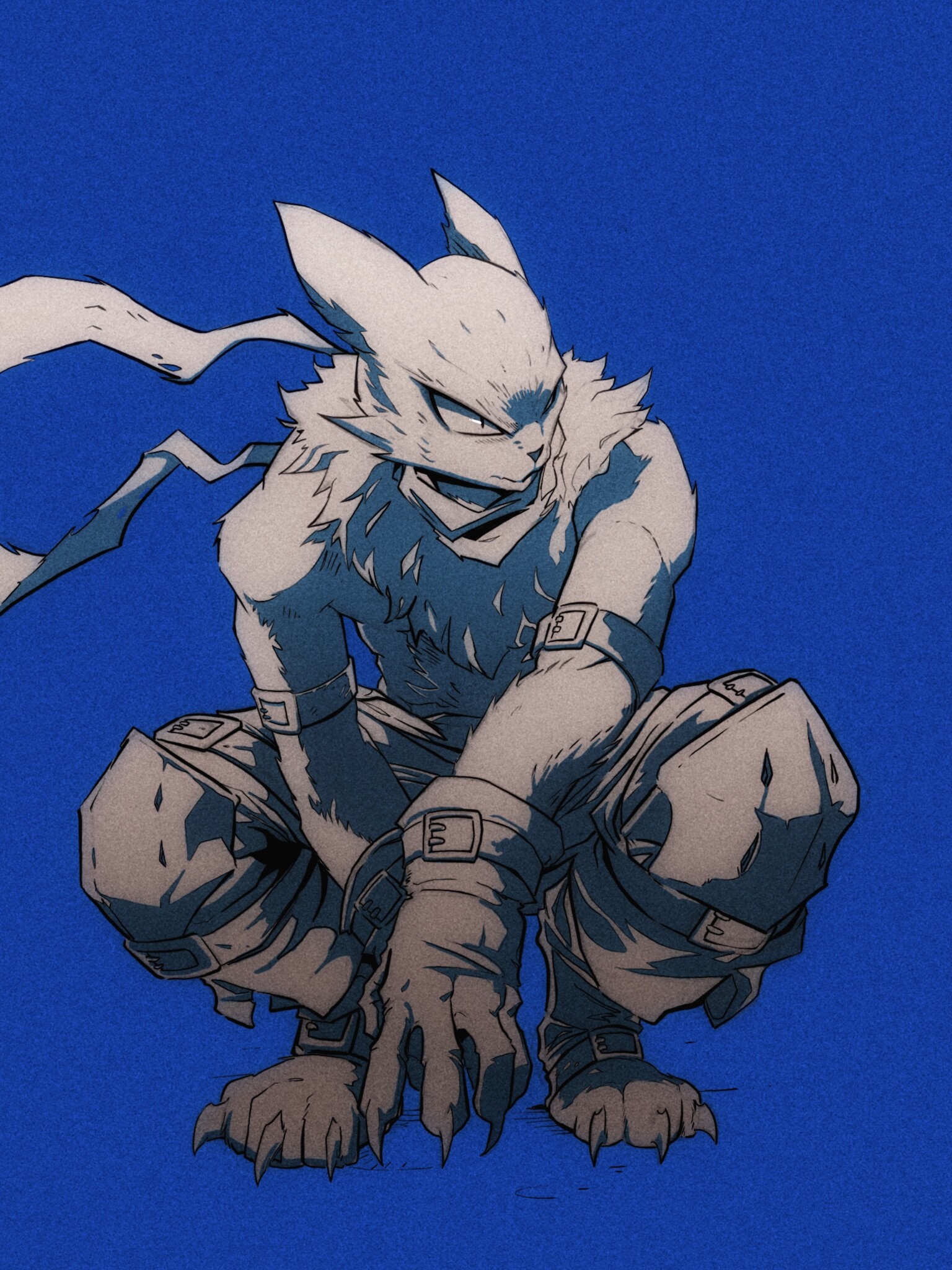 Attribute
: Data
Family/ies
: Nature Spirits
Type
: Wizard
Fighting Style
: Strabiman is an expert aeromancer and uses the wind in one of three ways to get to victory. Either the wind serves as an obstacle for his opponent, a weapon for himself, or an armor for himself.
Abilities
:
Demon Tailwind
The user puts forth their hand and one solid construct of wind is formed from above and behind them. This wind barrels forth, pushing back and knocking into anything in it's way. This ability has a two post cooldown.
Demon Bang
The user fires a small bolt of wind from their fingertip. The bolt explodes on impact, releasing a blinding light. If the blinding light is seen in close distance the victim is blinded for one post. This ability has a three post cooldown.
Shining Windblade
The user draws a blade of wind out of the air. This blade is sword length and can double in length to become like a polearm. This blade is visible as razor winds, and lasts three posts. This ability has a five post cooldown.
Demon Wind Bracers
The user gathers razor sharp winds onto their fore arms. This armor can deflect weapons, magic or be used as a close range weapon on it's own. These bracers increase the users defense. This ability lasts three posts and has a five post cooldown.
Digivolves To
:
---
Human SpiritSpecies
: Lobomon
Appearance
:
Attribute
: Data
Family/ies
: Virus Busters, Nature Spirits
Type
: Warrior
Fighting Style
: Lobomon uses his swords of light as a main focus in combat. These dual sabers are expertly wielded, and Lobomon has access to two laser blasters in his gauntlets. Lobomon tries to out perform his opponents and set them up for greater magical feats with his favorite wind powered element.
Abilities
:
Dual Light Sabers
The user draws two hilts from their side, then activates them by surging energy into the saber hilts. At light speed the dual sabers form. These sabers last for five posts. This ability has a five post cooldown.
Cosmic Jets
The user extends their arm and from their armor a barrel fires a blast of light. This ability has a two post cool down.
Lightspeed
The user burns their light brighter and hotter, increasing their speed capabilities for three posts. This ability has a 5 post cooldown.
Demon Wind Blast
The user puts their palm forward and a vortex of razor winds blast from their hand. This wind shoots like a cone from their palm, only reaching short distances. This ability has a three post cooldown.
Demon Wind Sentinal
The user raises their palm into the air and a magical circle appears below them. A vortex of wind forms at their hand and then begins floating around them. If any enemies are present the Demon Wind Sentinal will shoot one blast of wind at them per post. This ability lasts three posts and has a five post cooldown.
Demon Light of Wayfinding
The users eyes glow bright white and a full body portal appears in front of them. Only the user may step into it, and if they do they are teleported anywhere within clear sight of them. This ability has a five post cooldown.
Digivolves From
: Strabimon
Digivolves To
: KendoGarurumon