Post by Tsukiko & The Ashikaga Clan on Sept 28, 2018 6:11:11 GMT
Name
: Tsukiko Ashikaga
Alias
: Tsuki
Age
: 23
Gender
: Female
Height
: 1.65 metters. (Around 5'4'')
Weight
: 66 Kg. (145 lbs)
Alignment
: Chaotic Good
Birth Date
: 07/07
Western Horoscope
: Cancer
Birth Place
: Tokyo, Japan.
Skills/Talents
: -Athletic. Due to her sense of adventure and exploring and spending time at the gym and training her body by jogging and practicing martial arts Tsukiko has developed great physical strength and endurance.
-Action freak/Fearless. Tsukiko loves action movies and series, she has a vast knowledge of them, if that's ever useful. Due to this, she loves dangerous and adrenaline packed situations, she usually maintaining calm during these times and even enjoying them.
-Fir for survival. Since she spends lots of her free time camping and hiking, Tsukiko knows what to do on unfavorable natural environments; protecting herself and others from danger and managing short resources.
Backpack Contents
:


Change of clean clothes


Personal diary


Cellphone and headphones


Bottle of water.


Sweet snacks
Digivice
:
(Thanks Eizer!!)
Personality
:
An outgoing, cheerful and kind girl. Tsukiko is defined by most people as 'the perfect girl'. She tends to joke a lot, as much as she is easy to make laugh, her playful nature usually getting the best of her while she deeply enjoys watching the ones she loves to laugh. It's very easy for Tsukiko to make people come out of their shell, she has no trouble dealing with shy or introvert people, as she tries to make them feel comfortable around her, trying for them to show how they really are. Personally, she has no trouble expressing how she feels in different situations, even though she frequently mistakes her own feelings trying to cover them with others to not feel like she is too weak regarding certain situations.
More often than not, Tsukiko will go out of their way to help others as much as she can, she is extremely kind and has excellent manners. The girl is nice to everyone she meets and usually has a smile to lighten up their day. Being a bit of a perfectionist, Tsukiko can be spoiled and usually get angered when things don't go her way, she has some behaviors that are considered at least quirky, to prevent things from going different as she planned, usually taking excessive amount of works for herself (To make sure it is done right) or being extremely precautious about certain matters
Appearance
:
Due to some sort of European heritance in her blood, probably coming from her great-grandmother or something, Tsukiko got shiny blue eyes which had always made her very popular around people. She was born with dark hair, but after she entered college she dyed it with a light pink color, just because she thought it would look cool, this color sort of goes with her pale white skin. Her hair is usually a little below shoulder level when she lets it loose, but she usually grabs it to create some sort of splashed ponytail, giving the hair around the back of her head a flower-like style. Body wise, Tsuki is not thin at all. Due to exercising she has built enough muscle mass, leaning towards the chubby side but not quite getting there; she's got thick tights and prominent hips, while she still maintains delicate arms and an overall feminine figure. In terms of height, she is of average size for a girl, falling to the short side.
Tsukiko is most commonly wearing leggings, running shoes and other training clothes during her spare time. During work days, she wears all kind of beautiful colored sweaters: long sleeved, turtleneck and even hoodies. Sometimes accompanied by tight jeans and boots or sandals. She's usually not a fan of formal dressing and her bosses know this, so they let her wear what she feels like as long as she does her job properly.
FaceClaim
:
FATE
•
Musashi Miyamoto
• Tsukiko Ashikaga
Personal History
:
Born in Tokyo, Japan, inside a beautiful house that also worked as a dojo her father ran, Tsukiko had contact with her family's traditions since very little. The Ashikaga was a very popular ancient samurai clan that one existed in Japan, and her family was somewhat descendants of such clan. Tsukiko learnt how to use a kendo sword when she was only 5, and learnt a lot from this beautiful discipline thanks to her strict but also loving and kind father. By the time she was 8, she was considered a prodigy in kendo, having won multiple rookie-level tournaments. Her family core was safe and supportive, her mother always taking care of Tsukiko and helping overcome some school bullying due to her being different and liking stuff that normally girls didn't like. One day, after she arrived home crying from school due to some mean boys messing with her, her father, who was walking around the dojo, crouched and looked her in the eyes.
'
You're a kind girl, Tsukiko. I know sometimes you just want to love people and think they'll love you back. You must always spread love to the world, Tsukiko, but sometimes… those who don't know how to love you, those who can only harm you, don't deserve your love'
He said.
With the help of her family, the girl learned to overcome this, making great friends by always showing a smile and extending a helping hand to everyone who needed it.
By the time she was 12, her father, who was honestly rather old when she was born, died of a terrible brain decease: the second saddest day in Tsukiko's life when she received the news after her mom arrived from the hospital. Even though it could, this didn't change Tsukiko's cheerful personality, she went on being a great child and living a happy life, as her father would have expected. Her mother, who loved her father deeply, did her best to raise Tsukiko properly through teenage, the girl facing some sort of inoffensive rebel-like behaviors, like wanting to wear colorful clothing or wanting to dye her hair. Her mother supported her attitudes, a firm belief that, as long as her daughter was not a bad person and didn't harm anyone, she was allowed to dress or look as she wanted.
Once she turned 17, Tsukiko graduated from senior school and with that, some changes came to her life. First, she dyed her hair of a light pink color, then, she decided to leave the kendo for good to start a business career in college, using her father's savings. The day she hung her kendo sword was a dark day for Tsukiko since she had been practicing since she was little. But since this reminded her so much of her dad, she kept her sword as a treasure and maintained her love for ancient Japanese history and everything that had anything to do with samurais and such.
The first day of college came and Tsukiko was as nervous as it was possible. As a college tradition, during the first day, students from the second year of each career would be randomly selected to spend the day with one of the freshmen of their same career to show them around. As she walked to the classroom when they were meeting their partners, Tsukiko was nervous about meeting the second year business student to show her around the campus. 'Are they going to be mean to me cause I'm a freshman?' 'What if they think I look stupid?'. A raven-haired man with bright golden eyes greeted her, telling the girl he was her second-year partner for that day. His name:
Kazuya Oda
Kazuya would end up being Tsukiko's first boyfriend ever. He was a little cold and distant, but meant well, always protecting Tsukiko and caring for her wellbeing. The pink-haired girl felt like a child around Kazuya, and she liked it. She felt like she could finally be herself in front of someone without them judging or questioning her, Kazuya Oda became her home, and she wanted to protect that home as much as she could. 3 years passed faster than she expected. Some used to say it was kind of a waste for such a beautiful girl like Tsukiko to spend her whole college time having a boyfriend but she loved Kazuya as she had never loved anyone. Being away from her mom, since she had to move to live by herself due to the school being too far from the dojo, Kazuya was like some sort of family where she could rest and smile.
Sadly, that smile faded, and that home crumbled. One rainy night of her third year as a student and of Kazuya's fourth year, the man dropped her at her train station as he usually did. He had been acting strangely for weeks, and finally, Tsukiko cornered him, forcing him to tell her what was wrong. Without looking to her face, without giving much of an explanation, Kazuya simply muttered
'I can't be with you anymore…'
and broke up with her, getting into a train immediately after. Those words only kept sounding inside her head, as the rain fell over her pale face, as the night turned as dark as it could get, as the home Kazuya Oda had built for her simply crumbled. During the next days Tsukiko tried to call him, to reach him somehow, but he just disappeared, out of thin air. Not long after that, she found out Kazuya had taken an opportunity to finish his fifth year as an exchange student in a school at Shibuya. She did everything she could to reach him, to find him, but she couldn't. Something inside of Tsukiko died that day, with the crumbling of that home Kazuya built, the door to Tsukiko's heart closed forever. She never ever thought of another man in a romantic way. Her life was a complete mess during months, for the first time she felt lost and clueless, she started missing classes and failing subjects. One of those nights where she cried to sleep, something fell from the wall inside her room. She turned on the light and saw it: it was her father's kendo sword, the one she had taken from home to always remember him.
'
You must always spread love to the world, Tsukiko, but sometimes… those who don't know how to love you, those who can only harm you, don't deserve your love'

Her father words sounder inside her head. That night, Tsukiko shook her head and removed the tears falling through her cheeks. From that day on, the girl didn't spill a single tear more, she focused on graduating and won control of her life over. For the first time in her whole life, Tsukiko felt hatred, she hated someone, she hated Kazuya Oda.
Two years passed and Tsukiko had finally graduated, she now had a license in business and was ready to conquer the world. It was the first day of her new life in Shibuya, she had her first job as an assistant saleswoman in an important car dealership company known as IDOL. Her boss shook her hand with pleasure and she smiled at the man. After some explanations of how the business world worked around Shibuya, being glad to have Tsukiko on his team and explaining why he picked her due to her noticeable ability to get along with people; her boss made a pause to talk about competition. He showed her a newspaper where the image of a successful deal closed by another company, a close competence of IDOL could be seen. The man explained how it was extremely important that they surpassed this company in every aspect, to be the sole number one business company around Shibuya, while he showed the local newspaper to Tsukiko.
'I know you're new at this, Ashikaga, but sometimes, in the business world, you must keep an eye on your competition, feel the desire to beat them, to be better. Heck, I would say sometimes you even have to act like you hated them.' The man said.
In the newspaper, showing the photograph of the deal closing for the rival company, a tall man could be seen, mentioned as the salesman who helped to secure the deal. His golden eyes were unmistakable. It was Kazuya Oda. He was working for the competence.
'Oh, don't worry, boss. I feel like I hate them already…' Tsukiko replied, with her classic smile.
---
Digimon Name
: Mitsuharu Ashikaga
Default Form
: Bushi Agumon
Gender
: Male
Alignment
: Neutral Good
Skills/Talents
:
-Swordsman: Since he was a baby, Mitsuharu has been preparing to fight with a sword, so he's not only extremely skillful with the sword her current evolution state uses, but also with any sword he can find.
-Charming: Mitsuharu is a master when flirting and charming others in doing what he wishes, of course, it doesn't work on everyone, but he sort of knows how to say exactly what the others want to hear.
-Quick thinker: Over difficult situations, Mitsuharu is capable of thinking of a way out on his feet, it won't always be the best solution, but he'll come up with something, always.
Personality
:
Mitsuharu is a loyal fighter who's will and respect for those important to him will prevail over everything. He is well-mannered and caring for others wellbeing, even though he is a short worded digimon who won't usually say how he feels about certain situations, but just acting without explaining, unlike Tsukiko. Mitsuharu has a weak sense of humor, usually leaning towards the dark humor side, so he most often than not will not understand Tsukiko jokes neither share the laughs something produces in the pink-haired girl. He's brave and won't ever back down from a fight while he feels it has some meaning for him. Mitsuharu hates injustice and unfairness and he's willing to fight in order to protect other digimon's rights. Unlike Tsukiko, who can be kind of naive in certain situations, Mitsuharu tends to not easily trust people and digimon, knowing there's also evil inside the world he lives in and there would be creatures willing to hurt him or his tamer. He has eternal gratitude towards Tsukiko, and will do anything the girl asks him to do.
It is not hard to tell female digimon are the main weakness of Mitsuharu, who is frequently distracted by their beauty and will not hesitate in flirting with them as soon as he's got the chance, complimenting them or telling them old poetry he likes to write during his spare times, which is usually not very good, getting him rejected most of the time. Nevertheless, and for Tsukiko's demise, this doesn't stop him for trying over and over again.
DIGIMON'S INITIAL EVOLUTION LINE
---
Fresh
Appearance
: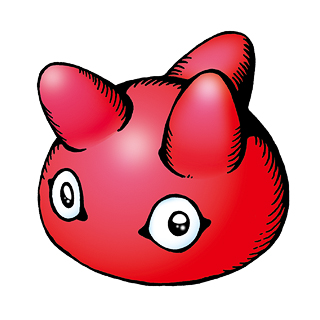 Species
: Punimon
Attribute
: Free
Family/ies
: -
Type
: Slime
Fighting Style
: As a standard baby I/fresh digimon, Punimon would only shoot bubbles at his rival as a defense mechanism.
Abilities
:
-Bubbles: Punimon shoots bubbles straight at his opponent.
Digivolves To
: Pukamon
---
Appearance
: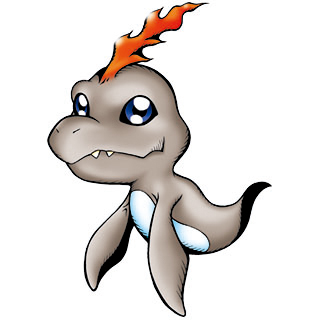 Species
: Pukamon
Attribute
: Free
Family/ies
: -
Type
: Lesser
Fighting Style
: After reading one too many books about swords and crafting, Mitsuharu learned to use his first sword... a stick. If he finds one, of course.

Abilities
:
-Bubbles: Just like Punimon, Pukamon will shoot bubbles straight at the opponent.
-Hiya!: Pukamon will grab any not-too-heavy sword-like object from the ground (Like a stick) and hit his opponent with it. 15 posts cooldown.
Digivolves From
: Pukamon
Digivolves To
: Bushi Agumon
---
Rookie
Appearance
: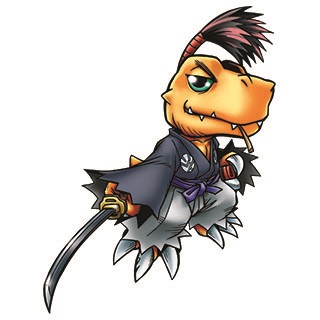 Species
: Bushi Agumon.
Attribute
: Vaccine
Family/ies
: Virus Busters
Type
: Dinosaur
Fighting Style
: As a Bushi Agumon, Mitsuharu will fight bravely and smartly, performing direct but thought out through attacks over the opponent trying to inflict as much damage as possible using his sword. He tries to compensate his lack of speed with intelligence and lethal attacks.
Abilities
:
[Passive] Flame Sword:
When his HP is below 50% or when he is facing a virus-attribute digimon, Mitsuharu will breathe fire into his sword making it catch fire. From then on, every sword attack Mitsuharu performs will do 20% more damage.
Itto-ryu; Slashing Tornado:
After performing a quick, circular movement with his sword, Mitsuharu creates a small side-ways tornado, traveling at full throttle against the opponent to slash him. If
flame sword
is on, it will be a fire tornado. 3 posts cooldown.
Itto-ryu; Piercing Dragon:
Mitsuharu charges against the opponent holding his sword in a sideways frontal position, in order to stab them upon contact. 2 posts cooldown.
Itto-ryu; Shiko Ryujin:
In a dreadful combo, Mitsuharu shoots his flame to the ground to propel himself into the sky, to then fall with all might, inflicting a ton of damage to the opponent. 5 posts cooldown.
Digivolves From
: Pukamon
Digivolves To
: Musyamon
---
Champion
Appearance
:


Species
: Musyamon
Attribute
: Virus
Family/ies
: Virus Busters
Type
: Demon Man

Fighting Style
: Due to the anger inside him and the desire of getting the revenge Tsukiko wants so much, Mitsuharu transforms into Musyamon, a powerful swordsman who holds nothing back during battle, having a very aggressive and dangerous fighting style. While he still fights for good and noble causes, in his Musyamon form Mitsuharu doesn't care at all about the opponent integrity, wanting to annihilate them from the start of the fight. Musyamon may also try to deceive the opponent with his multiple cloning techniques.
Abilities
:
[Passive] Agggghhh!:
At the start of every passing turn, Mitsuharu gets angrier, raising his attack power by 3% of his current attack power. If he is facing a virus-attribute digimon or if a member of the Ashikaga Clan fighting at his side is below 30% hp, his attack power raises by 5% every turn until a 30% cap.
Itto-ryu; Draining Slash: Mitsuharu slams his sword at the opponent. If he manages to cut him, he will gain a 30% of the damage he made to the enemy as HP. 2 posts cooldown.
Itto-ryu; Death Sentence:
Mitsuharu is unable to use any other technique during the next 3 turns. During the first turn, he will slash the opponent with a side blow. During the second turn, he will slash them with an opposite side blow. Finally, during the third turn Mitsuharu will slash them with a vertical blow. Once the third turn ends after having used Death Sentence, if all 3 blows managed to hit the opponent, they will take an extra damage of 50% the total damage the 3 blows inflicted. 5 posts cooldown.
Itto-ryu; Clone Slash:
Mitsuharu creates 10 clones of himself surrounding the opponent. They will all attack the enemy at the same time (inflicting a minimum amount of damage if they manage to hit), taking advantage of them not knowing who the real Mitsuharu is. If the enemy manages to hit a clone, it will instantly disappear. 3 posts cooldown.
itto-ryu; Lai Jutsu:
Mitsuharu sheathes his sword and closes his eyes, focusing all of his strength in his blade. Promptly, in an almost impossible to see movement, he unsheathes his sword, traveling at full speed towards the opponent to brutally slash them. 3 posts cooldown.
Itto-ryu; Mega Shiko Ryujin:
The Shiko Ryujin Mitsuharu used to perform as a Bushi Agumon has evolved into a dreadful technique. Mitsuharu charges against the opponent, cloning himself right before. If the opponent hits the clone, it will explode in a smokeball, Mitsuharu raising from the smoke to slash a lethal blow into his enemy, inflicting a massive amount of damage. 7 posts cooldown.
Digivolves From
: Bushi Agumon
Digivolves To
: ??