Post by Katherine Jasso on Jun 18, 2019 5:56:43 GMT
It was only now that the tower was crumbling that the height they had reached became evident to all of those who were high above at the last room of the tower. Unconscious Shonitamons flew everywhere while the structure shattered in pieces and Titania tried to get a hold of all of those rookies who couldn't fly. They were too many! When the fairy when to reach for a Salamon and the Otamamon who was apparently Gero's daughter, she would accidentally drop Boru.
The Psychemon, who was still very much asleep, plummeted down along the rest of the building. It was clear Titania was going to go to his rescue but…
Another figure caught him mid-air. The rest of the rookies who Titania was still left to caught started… floating. A layer of purple energy stopping their fall and keeping them afloat.
It was only when they reached the floor and after Titania had yelled in frustration, everyone actually able to decry the creature that had helped the Tinkermon save Boru, and who was approaching her now.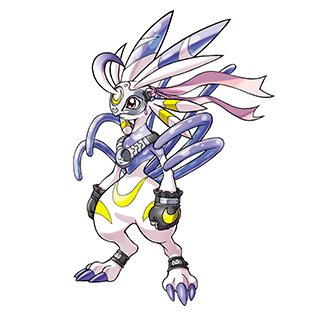 A Lekismon.
"A-Are you okay?"
She asked. Then, she squinted. No, of course she wasn't. In both of her arms, this Lekismon was carrying around four rookies, which she slowly placed on the ground, along with Boru, who she had lying on her back.
"That… was a mess."
She quipped, looking around at the aftermath of the battle. Then, she gazed at Titania again…
"Let me just…"

The digimon crouched and put both hands on the Tinkermon, issuing purple waves of energy that just circled around her body. This time, Titania would feel really refreshed, her wounds and all of her body healing every second these waves kept going through her. The curative sensation was a lot stronger than when Veena used her technique, and the fairy was slowly starting to feel as if she had never fought today. This healing powers would probably come as nothing short of amazing to her.
"My name is Fei. What's yours?"
The digimon muttered, while all of the rookies started approaching the two female digimon.
"I think all of your friends are in one piece.""Fei!"
Agner approached the group too, carrying Sonia on his arms. The Falcomon was slowly waking up.
"I'm sorry. After I was freed, I didn't have time to check on you."

The robot added, looking at the healer.
The Lekismon shook her head.
"Don't worry, Agner. That impact freed me too. Which is why I could help your friends here."
By now, it was evident Fei was Agner's cellmate, the one who had been freed after the impact caused on the structure by Sonia and the Parrotmon, just like the Metalmamemon.
"I'm so glad."
A smile appeared on Agner's face. Then, it quickly vanished as he found Titania's expression.
"W-What's… wrong?""I think… Mrs. Titania was looking for someone in that room too, wasn't she? She mentioned something like that."
Veena merged with the conversation.
"It wouldn't be…"
Fei's eyes widened.
"The Psychemons inside the other cage?"
The same way, Agner was struck by the realization. Titania was looking to save the two Psychemons that Effecmon had stored in her palette.
"Uhhh…"

The sound of Boru's voice made everyone turn their heads to the Psychemon. He was waking up.
Once he reincorporated, his head went everywhere, staring at the debris, the bunch of rookies, Titania back at being a Tinkermon and Sonia back at being a Falcomon.
"W---What happened here?"
He asked, a bit startled. So man new faces, too!
"Is it over!? Where are Koru and Roru!?"
He directed this question Titania's way.